I wrote down a few goals for the One Life racing program shortly after I wrote the non-refundable check to J/Boats. Having fun, being safe, and making space for women and other racers who weren't getting the opportunities to thrive in our racing community were the top three goals.

Number four was to make the 48 North Top 25 list… in the 3rd year of the program. I was told this was probably too ambitious, and that it usually took brand new crews on a brand new boat closer to 5 years to gel. That was fine with me, though, especially in those heady early days pre-COVID more than a year before the boat was in the water.

There were lots of times this year during some pretty disappointing outings and while I was struggling to get the right crew together where I very clearly remembered those cautions.

I was shocked when Kelly, who has been my most consistent crew over the last two years and is really an anchor (in a good way!) for all of us in her role as One Life's rock-star pit person, texted me this afternoon and told me to go up to 48 North's electronic magazine edition and check out page 42.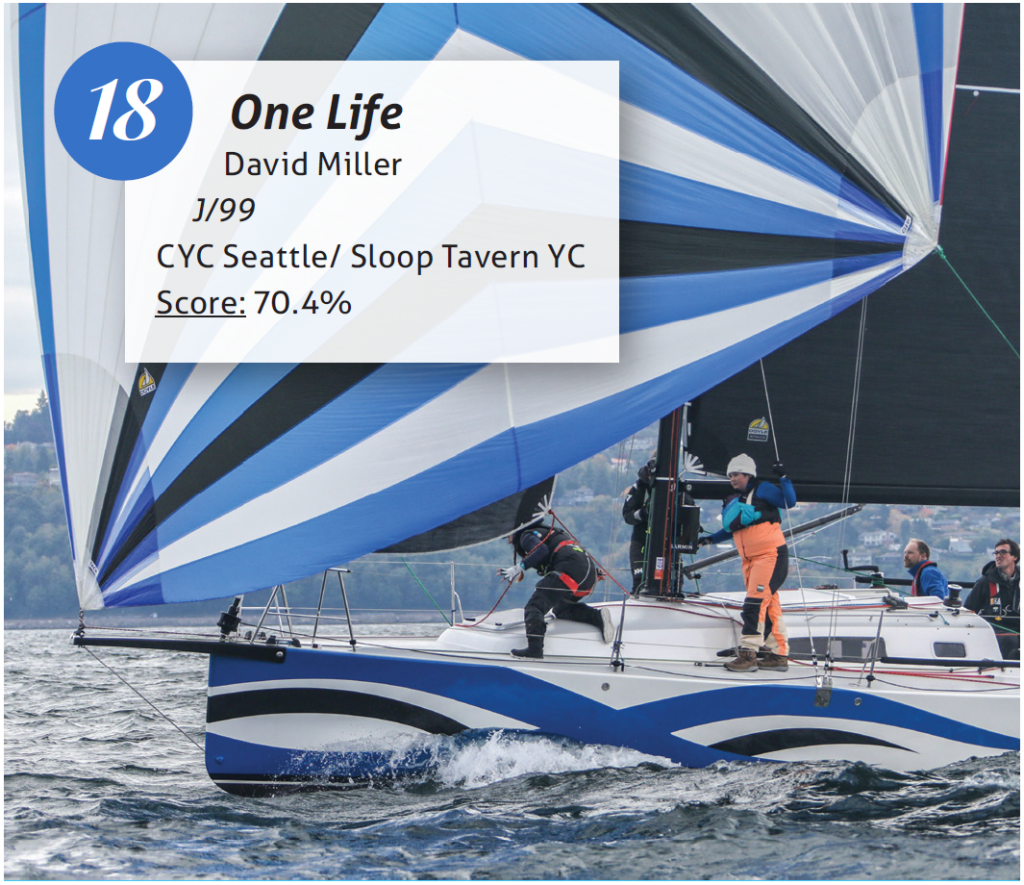 You honestly could have knocked me over with a feather to see we'd made the list. Sure, I'd considered it as I was looking back on the season — but I honestly thought the program had no shot this year at cracking the top 25.

Whoo Hoo!!!! #18!!!

I have some folks I need to thank here and I'm gonna warn you in advance this is likely to get a little maudlin.

First is my SO Kris. Kris loves to sail, but not so much with the racing. And while I try really hard to make time to do both, and did a good job of it (I think) when I owned Dragonfly, since One Life joined the family I've pretty much sucked at making time to sail and cruise. Her consistent ability to not only understand my racing addiction, but support it by being fabulous shore crew and patiently listen to me alternately cheer and vent after racing is a big reason I can keep the program on its feet. Thank you, my love, I appreciate you putting up with me and supporting all of us during the racing season.

John Sezer has probably done more than any single person (other than Kris) to get the One Life to this point. Handing over the tiller of his J/80 Reckless in key races, handing over the entire boat to Lizzy and I for the Ballard Cup series in 2019, and participating as watch captain for some of the long races earlier this year taught me so much about sailing and how to be a good owner and skipper. Thank you, John, from the bottom of my heart.

My crew. What can I say. I've sailed with exceptional sailors and exceptional characters over the last two years. There would have been impossible without you. More than that, though. There is no way I'd want to do this without you. At the risk of making some folks felt left out, I want to highlight Kelly and Taylor. Kelly, as you've read here multiple times, has been a constant presence in pit for us since the start of the program. A truly wonderful human being and a great sailor. Taylor sailed with us the first season, trimming main and calling tactics. She a far better sailor than I am, and I learned a ton sailing with her in the COVID-shortened first season. To all who've raced with us, however, thank you thank you thank you! This honor is way more about you than me.

Next is a group thank you. Bob and Ben at Sail Northwest have been incredibly patient with me starting from even before owning a J/99 was a gleam in my eye. Josh and Pieter at Doyle Sails Seattle have been amazing as well. From figuring out a suite of sails for a boat whose first hull didn't exist yet to helping the team learn to trim them, I couldn't ask for better sailmaking partners. Nigel, Tom, and the gang at CSR Marine for putting her all together and keeping her that way, along with answering all my dumb questions. And the team at Prism Graphics for somehow picking out of my brain exactly what I wanted her to look like. I will never get tired of how beautiful you made my boat. Thanks to you all for enabling the One Life racing program.

I'd like to thank our competition as well, notably Charles Hill and his Different Drummer program. It didn't take me long to identify Charles and his team as a benchmark for the One Life program. We rarely beat those folks, but we're getting closer. Congrats, Charles, on your well-deserved #5 ranking on the 48 North list this year. You can't improve without good competitors, and One Life is surrounded by them every race.

Finally, I'd like to thank Mom & Dad. I lost Mom in 1992 and Dad in 2003, but they are with me in spirit on One Life all the time. There are two silver coins on board honoring their birth years and I know they keep themselves busy as my guardian angels. More to the point, however, they drilled into an often sullen and mouthy kid enough basic life lessons to the point I've been able to work my way into a position to be fortunate to be a racing sailboat owner. Thanks Mom & Dad, I miss you a great deal.

OK, enough with the thank yous.

This was a hell of a way to kick off the new year. The 2022 SARC is out and I just plunked down the dollars for a Race Week spot, so it's time to start the serious planning.

Happy New Year, everyone. May 2022 be a wonderful year for us all!