CYC Seattle's Center Sound Series #2 is in the books. Formerly known as the Scatchet Head race, CYC let it be known the course for the day was variable — either to Three Tree Point or Scatchett Head or some other course. The wind forecasts matched such uncertainty, with the best odds being for steadier winds on a northbound course. The fleet was started south (from an uncharacteristically quiet committee boat) on a shortened course to round Blakely Rock, Duwamish Head, and back to the finish.

When the course was set for the cruising class at 9:30, there was a southerly, but at the start the wind had clocked around to the south for a downwind start. Our Class 6 managed to get across the start in an orderly fashion. One Life had a great start, but a spin sheet got caught in the jib as it furled and it took a few moments to get that straightened out. No real harm, though, as we ended up where we wanted to be with clear air. About half the fleet took a cross-sound route to the west side. The rest, including One Life, stayed east.

Then the "fun" began. After a slow-motion run to about the south end of the breakwater, the wind started dancing. Spinnakers came down and jibs out as the wind danced to come from the south. Back to close reach. Back to close hauled. Back to downwind under jib and main, to only change back to close hauled before we could reasonably launch the kite again. The wind also shut off on the west side of the course, with boats over there going backwards in the ebb.

The wind was running in bands a hundred yards or less in width, so there were lots of situations where boats running side by side were on different tacks. Across the fleet spinnakers went up, then came down. Codes went up, then came down. Halyards were up and down faster than the action in an Aurora Ave N hotel room.

Then it just shut off.

It returned again in bands, generally from the ESE or SE direction — which always makes me happy because the J/99 wasn't bred for windward/leeward racing. She's a reaching machine, though we have very little practice with her in this mode because of the prevailing winds in our area and a preponderance of windward/leeward buoy racing on our schedule.

We had just started moving again with 2-3 knots on the beam when we decided to hoist the kite (again). This first part of the race is where One Life's foredeckers, Lizzy and Kellen, earned their union cards. Andrew was kept busy in the pit, too. I lost count of the hoists and douses on the day, but it likely had to be a half dozen. They also had the Code Zero rigged and on the deck for the last 2/3rds of the race (thanks to the crew of Absolutely for letting us know it was dragging in the water shortly after an unplanned tack near Blakely Rock).

Hoisting the spinnaker shot us towards the front of the compressed fleet. Once we dodged the West Point buoy, the winds turned more reliably east and One Life started rolling boats. We caught one of the TP52s in the middle of a sail change and rolled them. I was angling to get above a second one when John, our tactician for the day, started telling me to come down on a course more in line with making the Rocks without a gybe. My response?

"But, but… I can get above and roll them, too!"

(In my defense, the number of times a J/99 has the opportunity to pass a TP52 in close-quarters racing is approximately zero.)

John was right, obviously, and like a good driver I did what the tactician told me to do and made for the Rocks.

It was a pretty uneventful crossing from West Point to the Rocks. We and Valkyrie (J/111) ended up trading downwind positions for a bit. Taj Mahal (J/80) latched on to our wake part way across and stuck there nicely. The fleets from both sides were converging at the Rocks, making it look like the AGC buoy on a Tuesday in high summer — though an AGC buoy with teeth.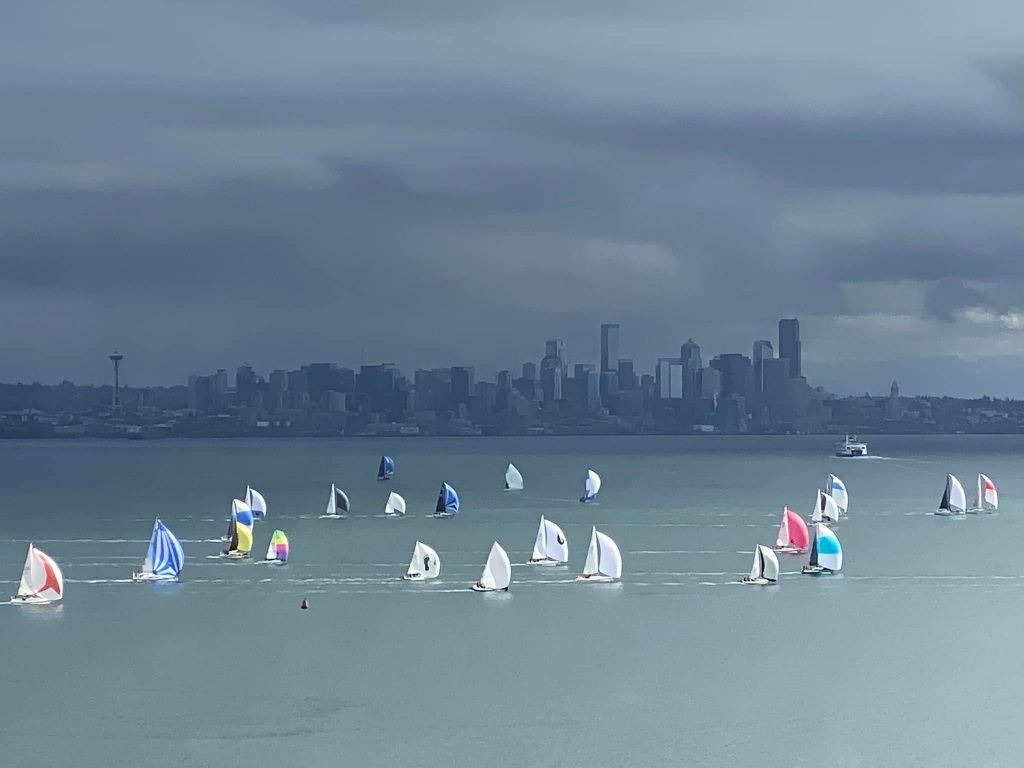 Here I have to apologize to J/111 Hooligan. We absolutely didn't see you coming (somehow, you're a little hard to miss). Thanks for the shouts and thanks for not tossing a penalty flag. I think we ended up not impeding you, and I hope that was the case from your perspective. Thanks also to the boats to starboard of us who reacted quickly and also gybed to give us room to avoid Hooligan on starboard. Congrats to you and your crew for the top-five finish ahead of the rest of our area's growing J/111 fleet.

After that little dance, we rounded the Rocks in good shape. We got forced into a tack we didn't think we wanted to take by J/105 Corvos, but the hitch north allowed us to lay the Duamish Head mark easily so it wasn't all that bad in the end.

We got into a pointing battle with J/105 More Jubilee on the beat to West Point, who was hollering at us wondering why we were doing this when we were not in the same class. Frankly, they were going where we wanted to go as well. We relented and dropped low, whereupon they kept on the same heading and passed us. Pretty much our only tactical mistake of the day as I think their higher line was a faster line. Two other J/105s held the same line as More Jubilee and also passed us on that beat.

The run from Duwamish Head to West Point was where Morris and Michael (main trim and jib trim, respectively) earned their keep. Winds were in the high teens gusting over 20 and on the close reach we sailed after dropping away from More Jubilee, it was a struggle to keep the boat flat. Relentless gusts with 10-15 degree direction locations meant it was an active trim situation the whole beat. There really wasn't much for the driver to do other than hold the course to skirt the shallows and take what ups we could.

Gusty shifts is a pretty normal feature of any sort of a reaching course here in Seattle, and it took a while for the three of us to get into a groove — but we managed it enough to not give up any places to the rest of our class.

We stayed out to the west longer than most of the fleet, which I think ended up working better despite a pretty constant header. For reasons only they know, the committee narrowed the finish line to about a boat length and a half long, forcing everyone to have to tack at the line or hit the committee boat. We ended up overstanding (my fault as I was judging the tack angle to a line that was a proper length having missed how short it was due to boats ahead), which fortunately didn't matter in the standings.

We ended up second in class to Dos, 10:28 back corrected (we owe them two seconds a mile), who also took top place overall in the PHRF fleet. Brad Butler's very well-sailed Sierra 52 weighs 10% of One Life with 60% of our sail area. It had to be a joyful ride for the day on that boat, skimming along in the light airs at the start and, I'm sure, surfing during the reach across. Congrats to them for a great outing. Overall amongst PHRF racers, One Life was 14th out of 48 starters and 62 entries.

Going into the race, we wanted to take the lessons learned from CSS #1, namely we felt we were very fast in that last race but were disappointed in the placing. Our post-mortem — and thanks to the boats who shared their course distances with me to help us out — was we sailed a longer course due to not pointing as well as we should.

We concentrated on point quite a bit in yesterday's race, and slight changes to the jib and main allowed us to very much improve the point while not dropping much in speed. It wasn't really a 1:1 comparison between teh two races because of the wind conditions and directions, but we rolled boats on upwind legs by outpointing them that we would never have been able to do previously.

So, progress!

Thanks again for a hard day on the job to Lizzy and Kellen on the foredeck, with Andrew in pit pulling all the strings during the many sail changes. Morris on main and Michael on jib/spin (first time doing this on the boat) did a great job in tough condition. John, as always, kept us in the right places tactically to give us a chance to succeed.

Fun day with a great result!