Those who read the last blog know the prior race left a bad taste in my mouth. Thanks to all who reached out with tips, advice, and a sympathetic ear. You helped and your response is just one of the many reasons I love our local sailing community.
This week's race, CYC's Scatchet Head, was shaping up to be an interesting one. With the forecasts all over the map — but largely agreeing there would be some wind — we didn't quite know what to expect. A last-minute crew cancellation (not feeling well, so the cancellation was appreciated in these pandemic times), left us scrambling to fill key roles on the boat. Lizzy Grim got the nod to trim main and Kelly Moon, in addition to her role in pit, took the tactician role. April Armstong on the bow and Craig Foulds trimming jib and spinnaker rounded out the crew for this sunny Saturday,
The race committee seemed to be looking at a weather report different than mine, and decided to alter the course to be easier to shorten if the winds died as the day went on (all of my forecasts but one had the wind strengthening, but who knows…).
The biggest impact of the course change was an entire evening's worth of strategizing on a downwind start went out the window when the course was changed to a veritable alphabet soup starting with an upwind leg.
After spending like 20 minutes trying to plug all that into the nav plotter (only partly kidding), we had to figure out how we were going to start. We wanted to stay out in the middle because the wind looked awfully soft inside — leaving the typical "bang the jetty until you hit the outflow" strategy out.
Kelly had us in a perfect position near the pin with less than a minute to go before the horn when the race committee flew the AP because they had the wrong start flags up. A minute or two later we were back in sequence. Fixing a problem with the last couple of races, we were prepared and got our race timer working.
We came back to the line a little early, but nobody but one of the Melges boat seemed to want to pressure us, so we were able to dawdle just enough to make a great run at the left middle of the line. Horn sounds and we cross exactly on time, and Kelly starts telling me we should tack to port cross the fleet.
I look at her like she's grown a second head (masks can be good to cover facial expressions, just sayin') but I glance over my shoulder, and sure enough the rest of the fleet was so focused starting at the pin end they were a little slower to the line. The One Life crew did a great job working a fast tack, and across the front of the fleet on port tack we went! Kelly nailed the call — and that was only the first one she nailed!
We were pretty much on the lay line at that point, and ahead of the other boats in out class. We then promptly sailed into a completely mystifying wind hole right where any boat I am on finds a wind hole on the way to or from West Point. Different Drummer was not 20 feet off our port side and had wind. Beltane was off our starboard side and had wind. One Life? No wind. Check it out on the Kwindoo tracker for the race. It's like we stopped dead in the water. Remarkable, really.
We rounded the mark well, got the kite up, and headed for the northern mark off Wells Point. Slowly, but surely, we were reeling in the boats in front of us.
As we finally were able to pick out the mark, we realized a big parking lot was forming as the mark was dead in the center of a big wind hole. For those with Duck Dodge experience, it was every August evening at the AGC mark — except even the big boats were stuck. Inside was a parking lot. Outside was becalmed.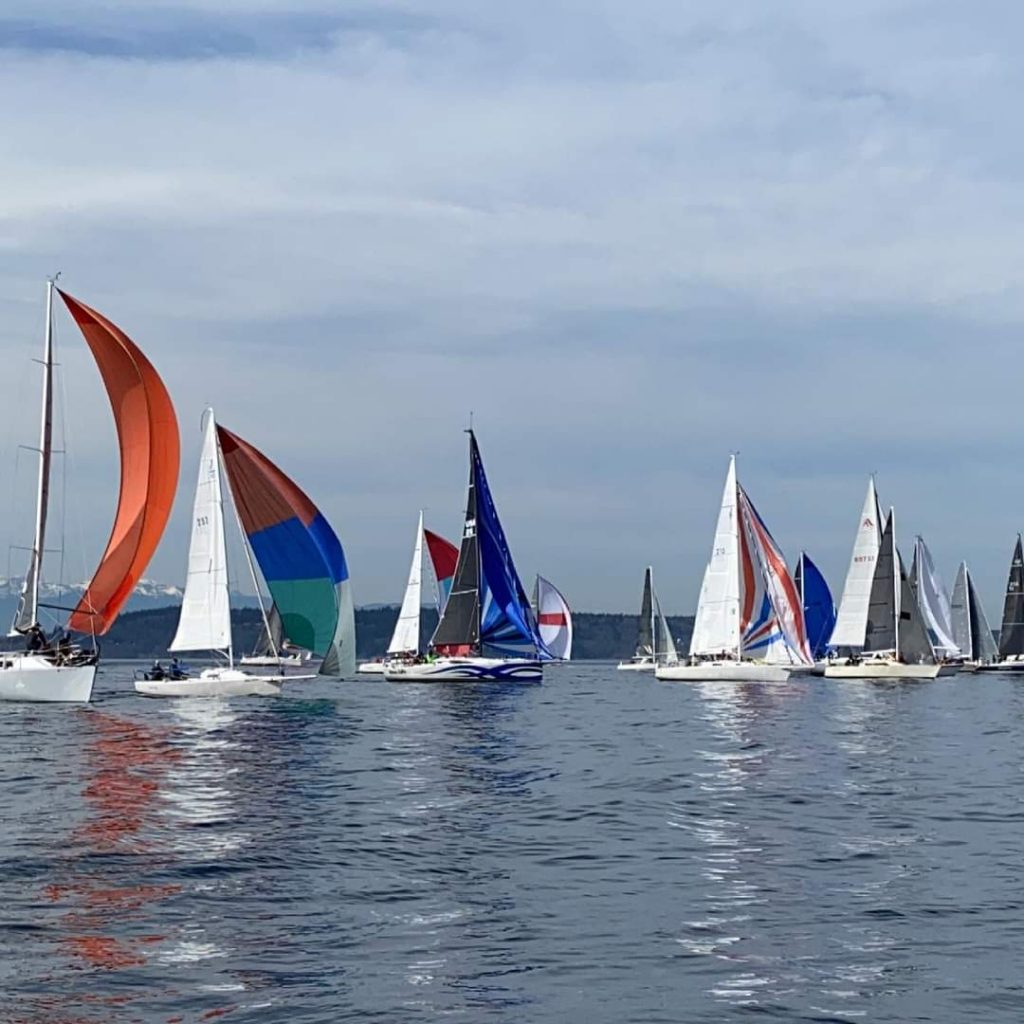 Us? We were slowing, but still had wind as Jennifer's picture above shows. As I was concentrating hard to keep the boat on a beam reach to maximize the momentum while not falling too far outside into the flat water out there, Kelly clearly sees something different and starts giving me specific directions…
"Follow that boat."
"No, THAT boat!"
"Stay outside!"
"No, OUTSIDE!"
I'm looking outside and all *I* see is a parking lot, but you're a shitty driver if you don't listen to your tactician who successfully called a port tack cross on the start so outside we go.
By this point, we've passed most of the fleet who is stuck bowsprint to BBQ inside around the mark. We're still angling away from the mark, but we're moving and almost nobody else is.
I glance back for a moment and the outside boats have caught a breeze and are starting to accelerate. One Life has picked up a tail of a couple 105s and some smaller boats, so I'm busy trying to keep our wind clear. Kelly calls for a gybe.
We're doing all of about 3 knots (maybe), and there is a WALL of boats around us. This is going to be one tricky gybe. I goose the speed best I can, bring the helm over, and the crew nails the tricky gybe. April does an amazing job bringing the kite around the forestay. Craig gets it trimmed quickly and we accelerate as the wind finds its way through the wall of sails.
The wind also starts working forward, so I quickly call for the jib and Kelly calls for a douse. The crew manages both perfectly, and we start to accelerate. Kelly is still telling me to follow this boat or that boat. At this point, she's making all the perfect calls so it is easy to do what she's telling me.
We keep working around the back side of the gaggle as I hear the familiar screams of "mark room" and accompanying hollow hull-bumping sounds I know so well from racing 3rd start Duck Dodge for a few seasons.

I'm very glad Kelly has us missing all that.
We break around the outside and start hardening up into the wind. We slingshot past nearly all the fleet, get our nose into clean air, and we're off to the races.
Some point shortly after this, I notice our boat speed indicator isn't working. We'd hit a small stick previously and it seems to have knocked out our speed indicator. I didn't think much of it at the time as we've had consistent problems with that paddle wheel, but…
We're on a good angle to the P mark and making good time. After being down to a couple knots at the N mark, the breeze (as per the forecast) is coming up. Not as per the forecast, the breeze is hitting sustained high teens. We have the J1 on, of course, as none of the forecasts predicted this, so I'm worried the boat is going to start to get unbalanced.
Lizzy, however, despite not trimming main on One Life before, is handling it like a champ with very little direction from me. The boat is staying on her feet and staying pretty fast — though I'm starting to remember how tough it is sail without a boat speed indicator.
We make a couple of unnecessary tacks — some forced — and give up our lead. We round the P mark and the boat speed drops to next to nothing. I can't tell what's going on. The wind has started to die off, but we're only doing 3 knots over ground in 8 knots of breeze. I'm freaking out, until I remember to take a breath. This allows me to realize pretty much everyone around us is going the same slow speed. This worrying about the other boats also doesn't help my driving, so I end up pinching far more than I should as we cross the lanes towards West Point.
Where most boats are content to stay on the same tack all the way across, we take a couple of hitches south to try and get a better angle on the West Point mark. This turns out to not be a great idea, but we only figure that out in retrospect after looking at the Kwindoo tracker.
Nevertheless, we're still going to be rounding near our classmates. We come in just north of the mark and tack to make the mark in light winds… just as a HUGE set of waves from a passing container ship hit us. Further proof that area of Pugest Sound is simply my Bermuda Triangle, this is a repeat of a race from last year. Our competitors to port can lay off a bit to pick up speed, but we have northbound traffic nearby and we can't. We stop dead in the water.
How dead? It probably takes us over a minute to even get steerage back, much less get back moving towards the mark.
We finally get around the mark and April does yet another fabulous job handing the spinnaker with Craig trimming it smartly. This wasn't easy as I've got my crewmates from two years ago on J/105 Lift Off pressuring us to port. After a pass so close I actually have to reach down and do a bit of spin trimming from the back of our boat so our spinnakers don't touch (!), we move by them.
We start gaining on the boats ahead of us. We're really excited to see a bunch of boats try to go inside towards the jetty as we think that is a losing path. We're looking like geniuses as we catch and pass them as they languish in flat water and no wind.
Sadly, the hole reaches out and grabs us. When the hole finally dissapates, it is the inside boats who get the first gust. It disappears before it gets to us, but it gives them enough legs to link into the next puff — leaving me to ponder what wind gods I need to appease to quit getting stuck in holes going to/from West Point. We get the second puff, but not before there is little hope to catch them.
But their is hope, as the inside boats appear to need to gybe to make the line — and we don't. We're on starboard so we'd have the position. Alas, the wind gods favored them yet again on this day and give the inside boats enough shift so they can all squeak by the committee boat.
We end up 4th in class for the day and 26th (corrected) out of 54 boats. We move to second place in class on the series podium, which is a nice silver lining.
Remember our little stick incident? As we were dropping the main, the main halyard got away from us and I had to back the boat down under motor to get it within reach. Immediately after, the speedo starts working again. That stick we hit clearly had some kelp or other passengers, meaning for about half the race we were carrying some extra nonsense below the water line slowing us down. Oh well, that's how it goes sometimes.
I'd been telling the crew all week they needed to Shake it Off in terms of last week and they did. Great tactical calls from Kelly, great main trim from Lizzy, flawless bow work from April, and Craig did a great job trimming the spinnaker for only his third time on the boat.
We were so jazzed about the great start and the perfect execution at the parking lot rounding of the N mark, where we finished didn't really matter. We got the boat back, put the skewers on the BBQ, cracked open the adult beverages, and celebrated a fabulous day of sailing in the Seattle spring sunshine.