CYC Seattle's Blakely Rocks race was the one year anniversary of racing for One Life. Last year, we had my brand new crew accompanied by experienced sailors Josh Butler (Doyle Sails Seattle) and Ben and Jennifer Braden (Ben from Sail Northwest and his rockstar sailor of a wife). We were having a pretty good race until CYC's north mark misplaced itself into the traffic lanes — whereupon the race was cancelled for safety reasons.

This year, the day dawned out of line with the forecasts given the wind about 90 minutes before the start was in the 8-10 range and not the 15-20 forecasted. By the time it came to make sail choice decisions, however, the wind picked up to the 20 range making the call for the J3 and A2 pretty easy.

With those fitted, we toddled off to the start line via the south end of the marina to check the current push there. All was expected at the mouth of the Ship Canal, so we motored off towards the start line — which was noticeably missing CYC's committee boat. The race committee let us know what was up via race radio — a busted hydraulic line on the committee boat and a race delay while they tried to repair it.

The repair turned into a long delay as the committee shifted their start plans and shortened the race course. The course ended up starting off the Meadow Point navigation buoy, with some of the race committee in a Bullfrog chase boat with the flags. The race committee did a great job trying to communicate and deserve kudos for cramming themselves in the tiny chase boat to get the race off.

One note to the CYC Race Committee if they happen to read this: This is two years in a row your 'N' mark has been a problem. I respetfully submit you simplify the course and eliminate risk to your Whaler crews of trying to set a mark up there and just use the NOAA buoy as the north race mark. It's a similar distance north as your 'N' mark and you don't have to worry about it dragging or having some other technical difficulty preventing you from having a full-length, completed race.

This day, however, I was plenty glad we didn't have to go all the way north as our day being competitive with the fleet ended in a series of roundups off Magnolia. But I'm getting ahead of myself…

When we started about an hour late, winds were in the 20-25 range. We started with the main reefed, which was the first time doing this in a race situation. This was something I wanted to try after a couple of experiences towards the end of last season in heavier winds.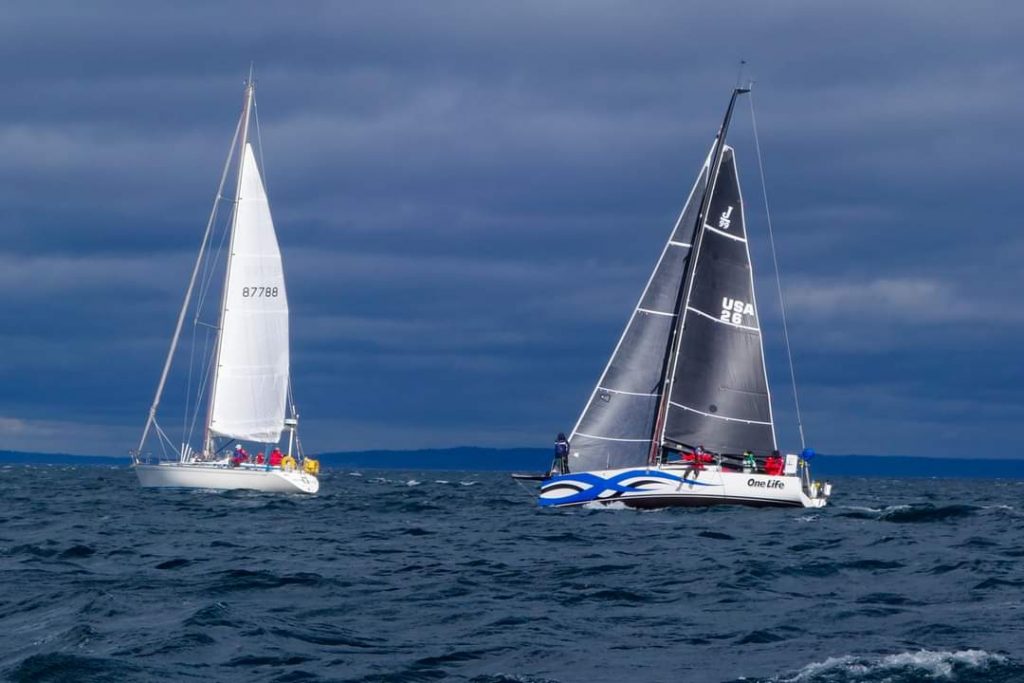 We heard the race radio call for a delay for our class, but somehow (even with two people assigned to listen to the radio) missed when the AP came off. Despite having essentially only 60 seconds notice we needed to start, we were surprisingly well positioned on the start line. We were on port tack, however, and probably could have pulled off crossing the fleet on another day. But wave patterns and gusts made it too tough to judge relative speeds so we tacked towards shore.

One of the things you learn pretty quickly when racing is when the unexpected happens, you need to deal with it then put it away. If you don't Shake It Off, Shake It Off, things tend to start to spiral. This was pretty much our theme for the day.

Not shaking off the delays in the morning was my first mistake. Somehow, even despite the delay, I didn't give the crew any sense of what the overall strategy for the day was. Our goal was to stay east for current relief, ride the current train out of the Ship Canal, and get west as fast as we could into more current relief and what was forecasted to be better wind.

The second time we should have heeded Ms. Swift's advice was after the start. We didn't realize we were supposed to be in sequence until about 2 minutes before the start, and only had the prep flag dropping to inform us where we were at on the timer. This kerfuffle (twice in two weekends, if you're keeping up with the blog) magnified the first problem of me not communicating strategy with the crew.
Without the plan in place for everyone, and still vibrating from the start silliness, we ended up making our turn to the west much earlier than we planned and completely diverged from the fleet. This meant we missed the extra current relief represented by the Ship Canal outflow we were planning on in our original strategy. After a close port cross (re-Quest, whose cheered loudly when we pulled it off, thank you!) and very close port duck (Tantivy) the die was set.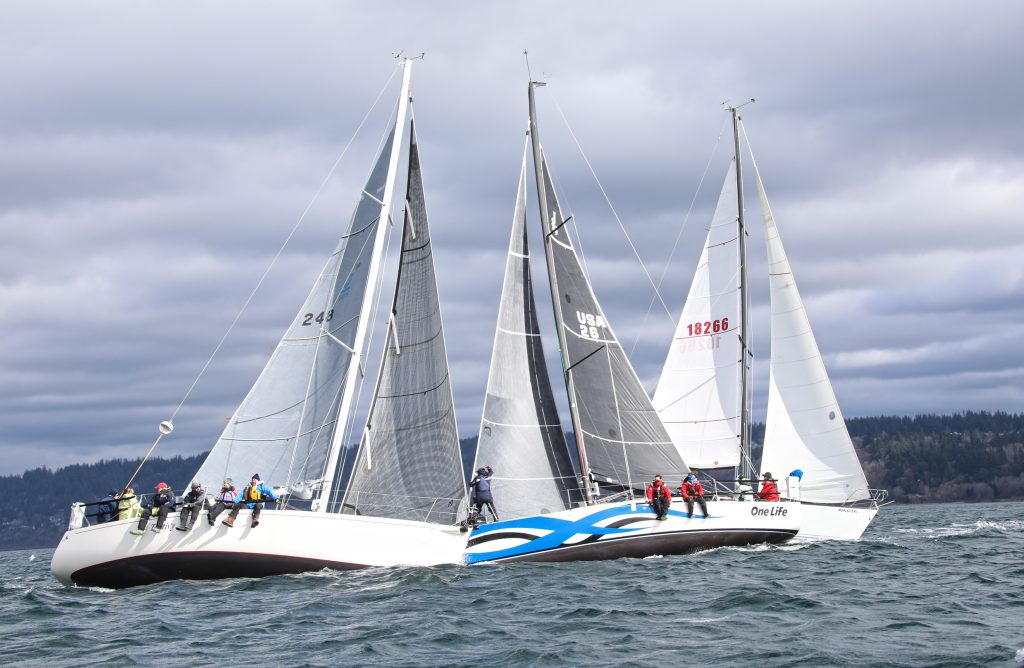 Westward ho…

Everyone else kept into shore and rode the Ship Canal current out (there was a reason that was our strategy). Looking at the Kwindoo tracker most of the fleet used for the race, you can see the effect. While our westbound speeds were comparable, and we did get to the west side marginally first, we lost about 1,500 meters southerly progress by going across early.

With the winds, as per forecast, dropping as the day went on to 10-15 knots, we shook out the reef. This turned out to not be such a great idea as the slackened winds were a brief respite and they surged to 20+ knots soon.

Despite our divergent course, when we met back up with the fleet we were in pretty good shape. Then we made a number of not so great decisions to tack. One was forced by another boat tacking on top of us, another forced by a ferry who decided to motor a very southerly course. The others? Not so forced.

Somewhere in here, Jan Anderson from JanPix got this amazing shot of One Life. More on Jan and Skip, our racing community's guardian angels, towards the end of the blog.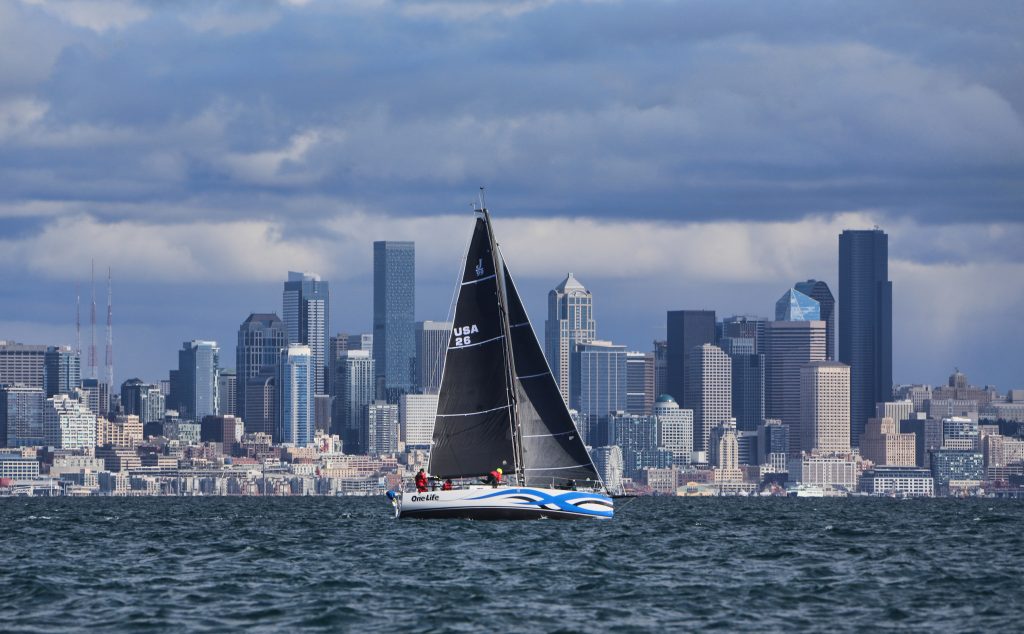 By the time we reached Blakely Rocks and cast our daffodils in the water, we were well back in the fleet. We had a reasonably uneventful set, a decent gybe, and then we set out back across the Sound to try and chase a few boats down. We lost the kite a few times as I was trying hard to keep the boat as dead downwind as possible given the now 20-25 knot winds.

By this time, we were feeling the effects of the incorrect forecast. The winds, after the brief period where we shook out the reef, were back into the 20 knot range. After a gybe back north, we were simply unable to hold the kite. Two and a half knockdowns later, I called it. We letterboxed the kite and headed for home under main and jib only.

This is the second time we've been unable to effectively fly the A2 in these winds. We should be able to, but haven't. Why not is something we're working on. Much of it has to do with a driver (me) inexperienced in flying a kite this big in these winds. Part of it has to do with crew still learning the boat. We have a new spinnaker designed for us by Doyle Sails Seattle for higher winds coming that should help — but that sort of help is a couple months away.

To say I'm frustrated by all this is an understatement.

Once home at the dock, we talked it out. (Note to captain self: Sarcasm is not an effective humor strategy after a tough day. Apologies again to my crew.) On a positive note, we came up with some things to try in future races.

The important thing of the day is nobody ended up off the boat. Given the knockdowns, one of which was prolonged as we struggled to get the main sheet releases, we were lucky.

After I was home, showered, and had some food in me, I looked for the results. While I knew we didn't cross the line last I figured we'd be DFL in our class. I was pleasantly surprised to see we were third in class. We were 34th out of 44 finishers, however, 21 minutes on corrected time back from the winner. Not exactly where I hoped to be in a Top 25 qualifying race.

Lessons learned in the race were many, as you can tell from this narrative. The biggest one was confirmation of not being afraid to reef. In 20-knot winds, One Life was much easier to sail reefed than not. Not very surprising, of course. Interestingly, while legs a few thousand meters apart are difficult to compare, she was faster reefed in 20 knots than unreefed — by at least a half a knot if not more. I also believe we would have avoided one of our knockdowns if we had less sail area via a reefed main.

I'll close this post with a plug for our local racing photographers and sometimes guardian angels, Jan and Skip Anderson from JanPix. As many reading this blog already know, Jan's the photographer and Skip drives the boat. In addition to getting great shots of our chosen sport, they've been instrumental in rescuing COB sailors from the water, transporting injured sailors to shore, helping dismasted boats, helping boats aground… the list goes on and on. Jan got some great shots of the race. You should absolutely visit her site, check out the shots, and buy one or two of your favorites.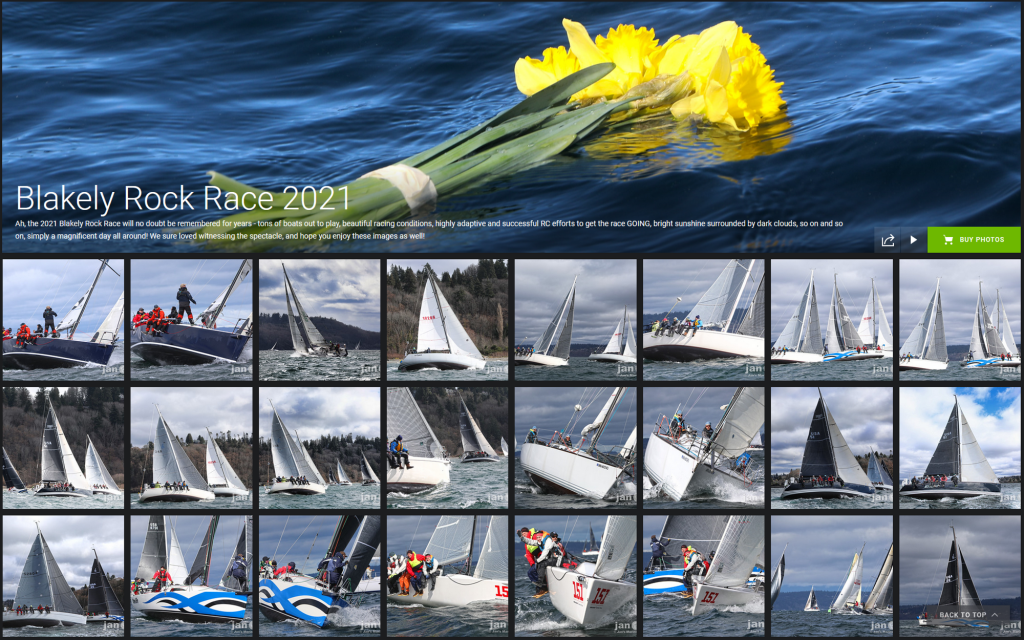 All JanPix photos appearing on this site have been purchased. I always try and purchase at least a couple each race to support everything Jan and Skip continue to do for the racing community.

I have to say, One Life sure photographs pretty (grin). I've written before how incredibly pleased I am with Prism Graphics' design and work.

Now I just need to figure out how to sail her pretty, too.