One of the big appeals of the J/99 is its competence for both racing and cruising. She's no sled, but she's not slow. She's no luxury yacht, but she's comfortable. I added a fridge to keep the beer cold, which doubles to keep provisions cold when cruising. I added heat for long races, which makes her cosy at bedtime when cruising. And her stability, cockpit design, and water ballast make her easy to handle for Kris and I.

When you're racing every Monday and Wednesday, and practicing or racing every Saturday, sometimes it is easy to forget to take time to cruise. When not many people signed up on TeamStuff (the tool I chose to organize crew) for practice this past Saturday, I deleted it and Kris and I went for an impromptu cruise over to Poulsbo.

Cruising isn't as easy in pandemic times as pretty much nothing south of Port Ludlow is taking reservations. And since One Life is not really set up to anchor, plus Kris and I like to have amenities when taking time away, marinas are our thing. Poulsbo is open, but there are no reservations. So, we decided to get up early and head over early to hopefully get a spot.

It helped the day dawned rainy and gray given it probably kept most day-trippers home. It also came with essentially zero wind. I don't think I've ever seen so many 0-1-2-3 all up and down Puget Sound on SailFlow!

We didn't even bother to take the sail covers off. We just loaded the gear, got the life jacket on Kelvin the Reluctant Boat Dog, and headed out. A few tweaks later, Fred (the autopilot) was driving and we were lounged out comfortably on our way towards Agate Pass.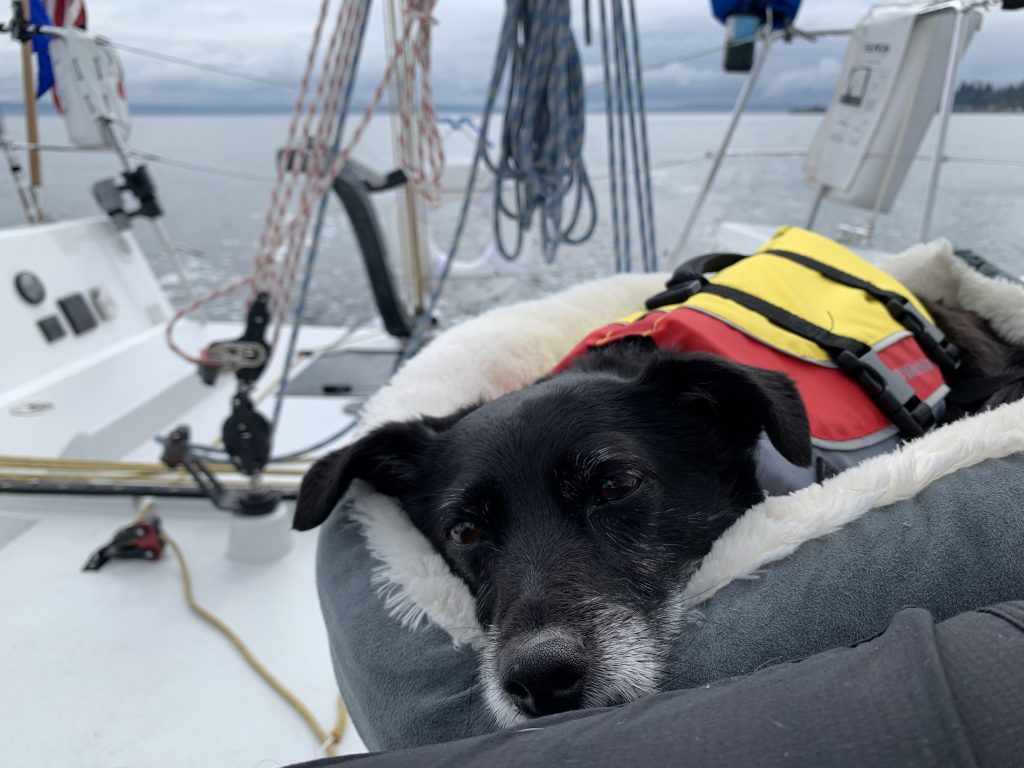 As we were about abreast of Port Madison, we heard a distinct "Fhissst!". Looking around, we realized we'd come across a pod of Orcas! Kris grew up seeing them in Alaska on her family camping trips, but hadn't seen them in Puget Sound yet. And I'd never come across a pod this close, especially not one with a baby. We killed the engine right away and I ran down below to kill the SONAR, and we spent the next hour oohing and ahhing as we watched the pod circle around the area.
It was a wonderful hour-long distraction. While you don't see it in the video, one of the local whale watching boats came roaring up, stopping a respectful distance away. They were rewarded by the pod swimming right up to them and circling their boat.

We were very jealous.

After the pod moved on farther south, we fired up the engine (and SONAR) and resumed our trip. We didn't get up quite so early as to miss the flood, so Agate Pass was a bit of a slog.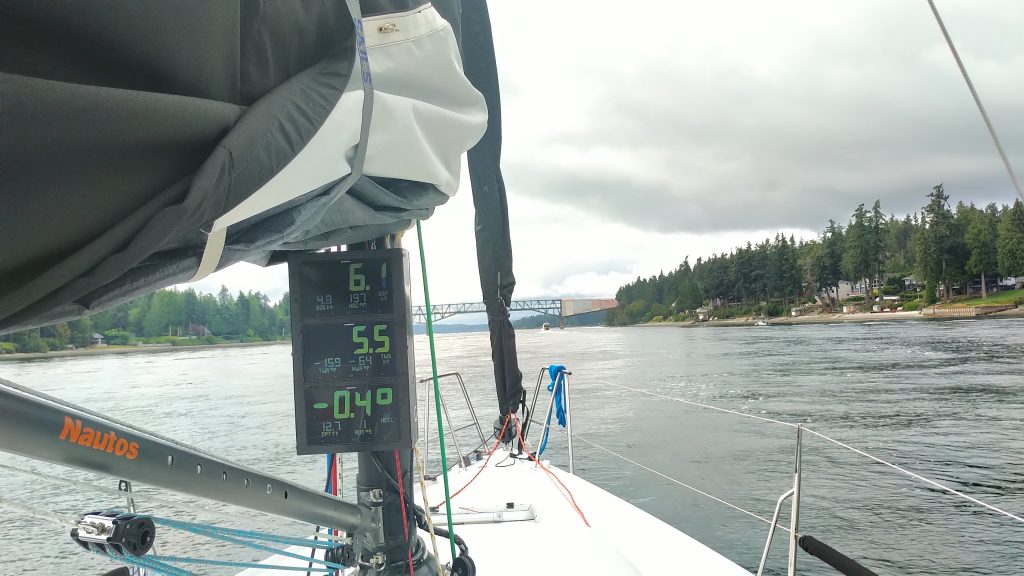 But it wasn't terrible and only a couple of the passing powerboaters were assholes, so the trip through wasn't all that bad. It's not as pretty as Colvos Pass, but it was our first time through so we were very entertained looking at all the houses.

Poulsbo is quite a bit further off the beaten path than I thought it was, but there are lots of things to look at on the way in — not the least of which was the steadily rising ground. I found it interesting, in retrospect, how none of the guidebooks mention how shallow it gets in there. With one eye on the SONAR, another on the Navionics charts, and going slow, we motored into the marina and found there to be all sorts of slips available. We took one especially away from other folks and docked with 3 feet under our keel, the shallow water alarm beeping away, and a fair bit of tide still to go out. (It bottomed out with a little over a foot of clearance in our slip.)

We registered and headed up to explore the town, which I haven't spent any time in. Most things were open, so we wandered in and out of the shops who didn't mind us bringing along The Reluctant Boat Dog.

Back to the boat for relaxation with our Kindles, though it was chilly. Deciding what we were going to do for dinner was our only task for the evening. Unsurprisingly, I was lobbying for at least a stop at the local brewery. We ended up eating there as well.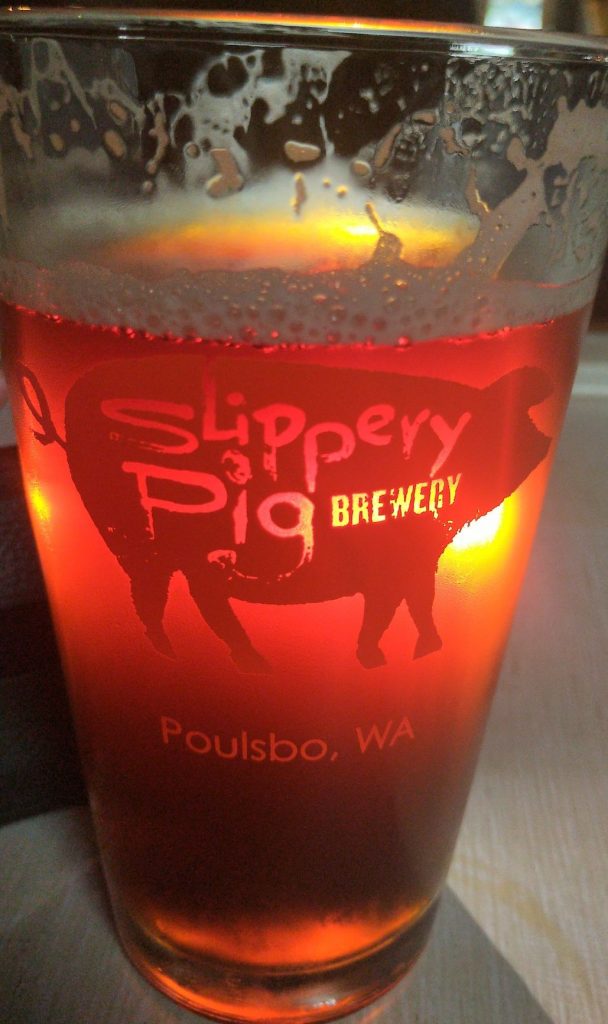 I'm a big fan of reds. If you are too, make sure to try Kingman Red at Slippery Pig. It's perhaps the malty-est beer I've ever had, which is saying something! The food was also decent. Kris' blonde ale was just OK (would probably have been outstanding if the beer was colder and the weather hotter), so she switched over to a mojito while I tried Slippery Pig's Mojito Wit — a belgian witbier with lime and mint. It was an interesting beer I rated 3.75/5 on my Untappd app (I rated the Kingman 5/5).

We headed back to the boat to rescue Kelvin from his confinement. (Poor puppy.) As we were lounging around, the clouds finally worked their way eastward and we were treated to a wonderful sunset on the marina.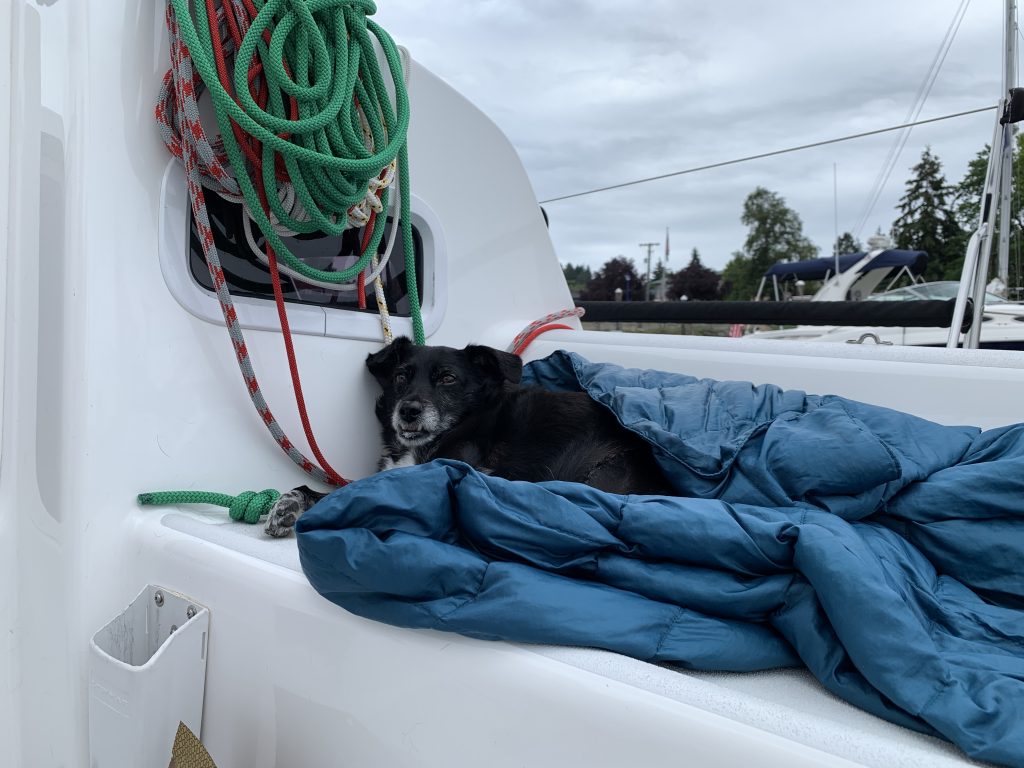 We got the bed made in the quarterberth, had a few more beverages, turned the heat on to take off the chill, and settled down for the night.

The following morning dawned with beautiful blue skies. I put the hot water on the stove for coffee (Kris) and tea (me) and put the bacon on the Magma. Toasted some bread there, too. Breakfast done for us and The Reluctant Boat Dog, we wandered back into town for some 'real' coffee for Kris and to kill time while we waited for the wind to fill in per the forecast.

A bit before the noon checkout time, we departed our slip and swung over to the fuel dock to take advantage of the $1.95/gallon diesel there. We headed out in a really, really variable breeze and beautiful skies. We'd intended to just go back through Agate Pass, given the lack of wind, but decided at the last minute to complete our circumnavigation of Bainbridge Island and instead headed south towards Rich Passage.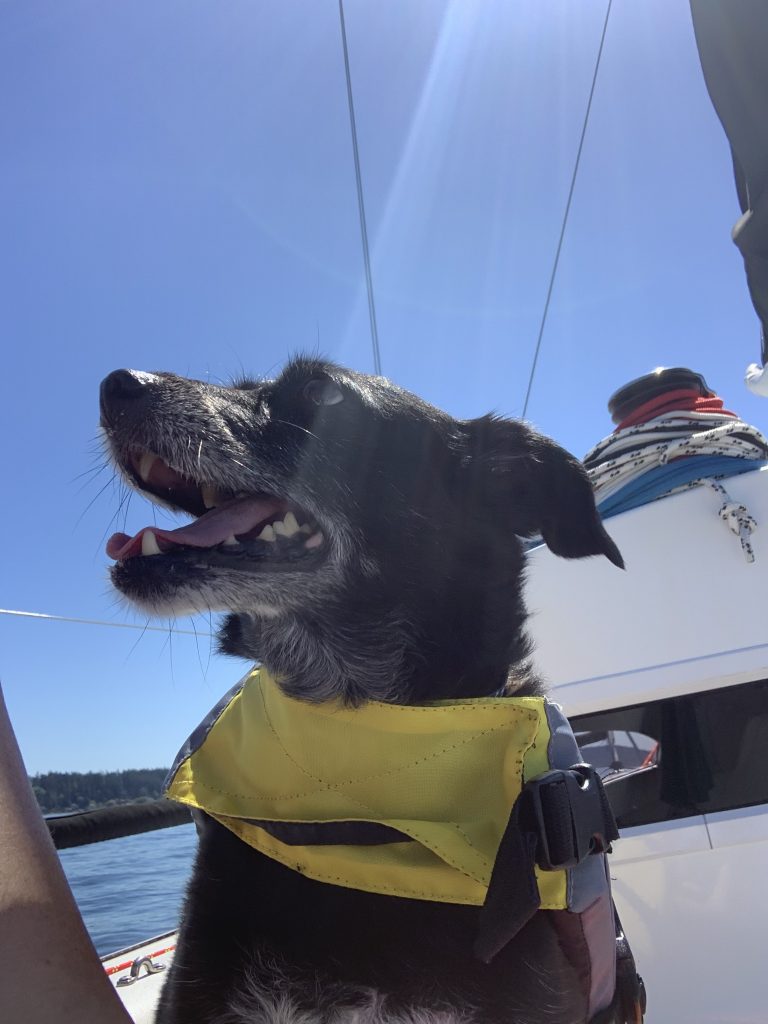 With little traffic and seas flat, we again let Fred drive. Kris stretched out a towel on the bow and we relaxed as we worked our way south.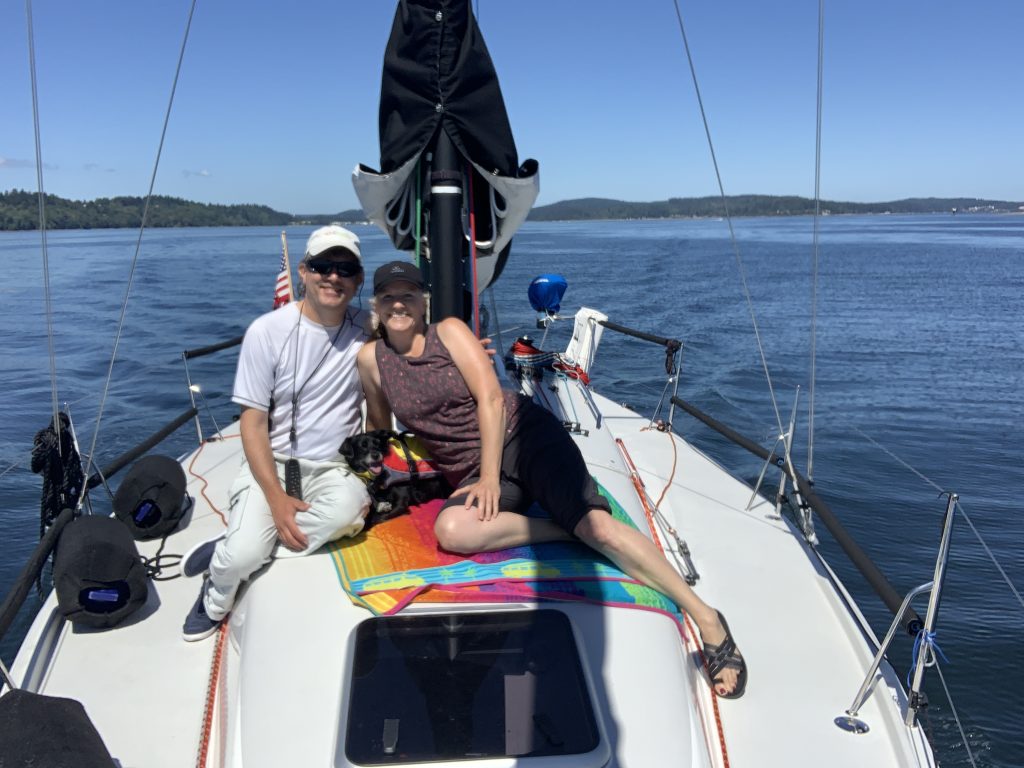 Along the way we fired up the BBQ for lunch, had a beer, and overall thoroughly enjoyed the trip to Rich Passage. We timed the tides right this time, and also timed our shot through the narrow part of the passage to stay out of the way of the ferries. One didn't come through until we were nearly at the eastern outer marker of the passage, where there is plenty of room.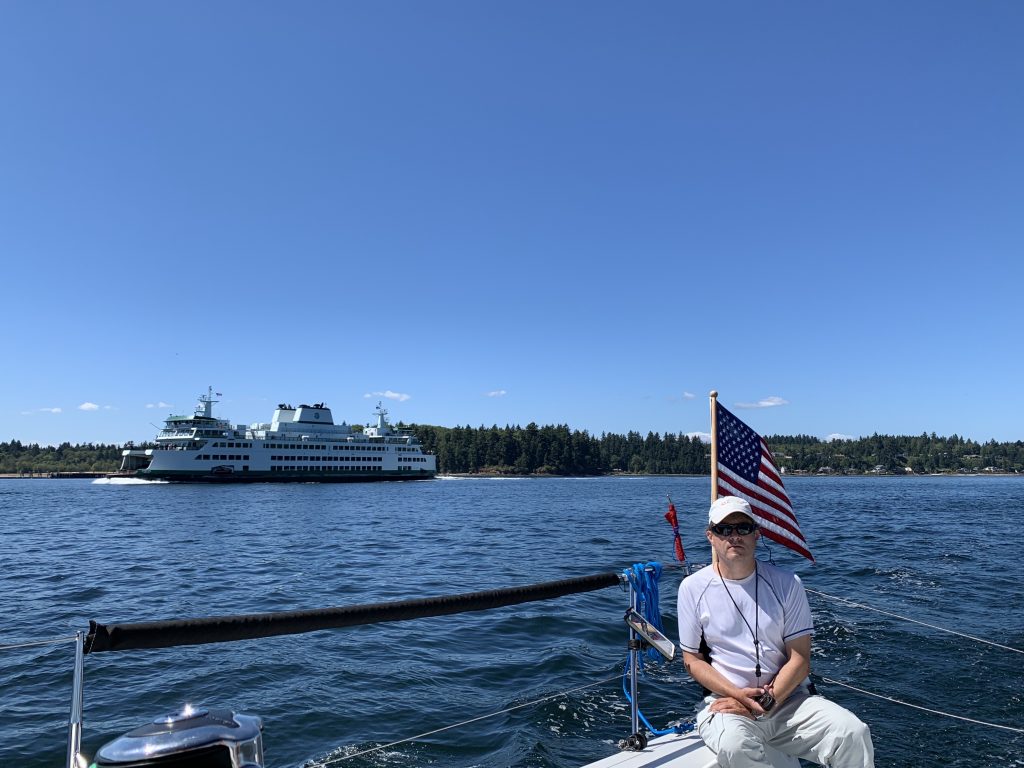 We'd been eyeballing the wind reports on SailFlow as we motored south, and thought we might be able to get some sailing in. Sure enough, a nice wind line greeted us at the southeastern point of Bainbridge. We took the covers off, raised the sails, and shut the engine off. We did long, lazy tacks back and forth across the sound. It was quite nice for Kris and I.

Not soo much for the pooch, sadly. Kelvin is "The Reluctant Boat Dog" because he doesn't much like waves and hates it when the boat heels. He didn't have such a good time on this last part.
On past trips, we've been able to settle him down below in his bed and he's been fine. This trip, we couldn't find a place below where he would settle down. Kris ended up holding him for most of the sail home.

We don't often bring Kelvin with us sailing, because he clearly doesn't like it. It stresses him out more than having us gone, so we try and work it out so he stays home. We thought the greater stability and room inside the cabin One Life might help. If anything, I think he was more nervous on this trip even though the waves and heel weren't all that serious.

All considered, however, it was a lovely weekend getaway. Orca pod, a baby orca, quiet marina, and beautiful blue skies on Sunday made it a great trip.