It seems like forever ago we last raced One Life, and I suppose it has been. The 2020 season was a bit of a blur. I think most of us, myself included, look at it as a "lost" season, but we ended up doing quite a bit of racing — if scrolling back on the blog is any indication.

For the One Life team, weather, work, and the fact manyof our area's earliest races involve multi-hour deliveries have interfered with racing so far. We were all set to go last weekend for the Shilshole Bay Yacht Club's Snowbird race, then this happened.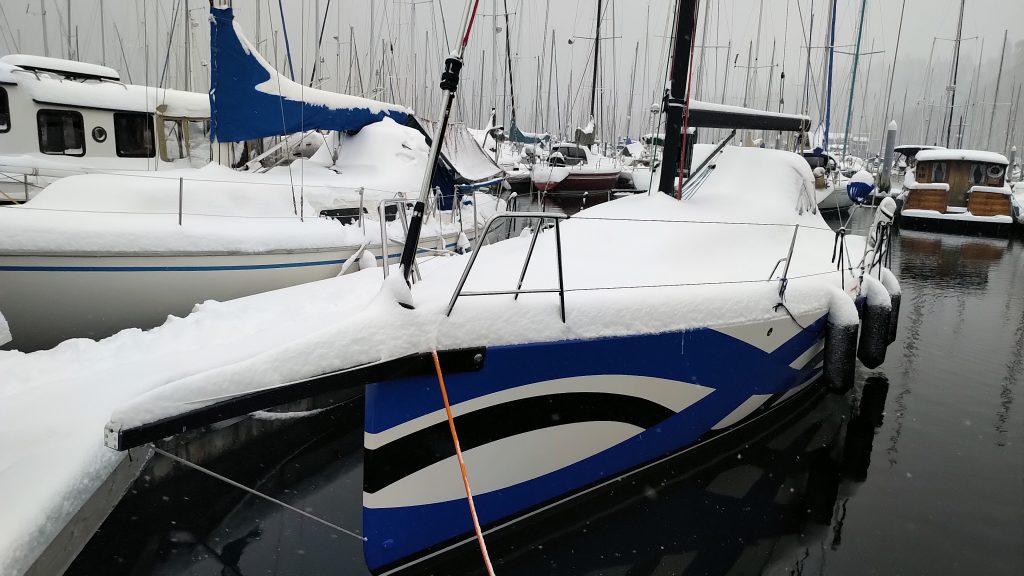 Snow in the Seattle area requires a very specific set of circumstances. We need moisture from the south, not the west. We need cold air from the north or east. The mix of moisture, temperature, and wind direction has to be in a remarkably narrow band or we just get rain or dry cold.

As you can see from the cockpit picture below, circumstances aligned for snow — about a foot or higher in the cockpit, 8″ or so in most places on the deck.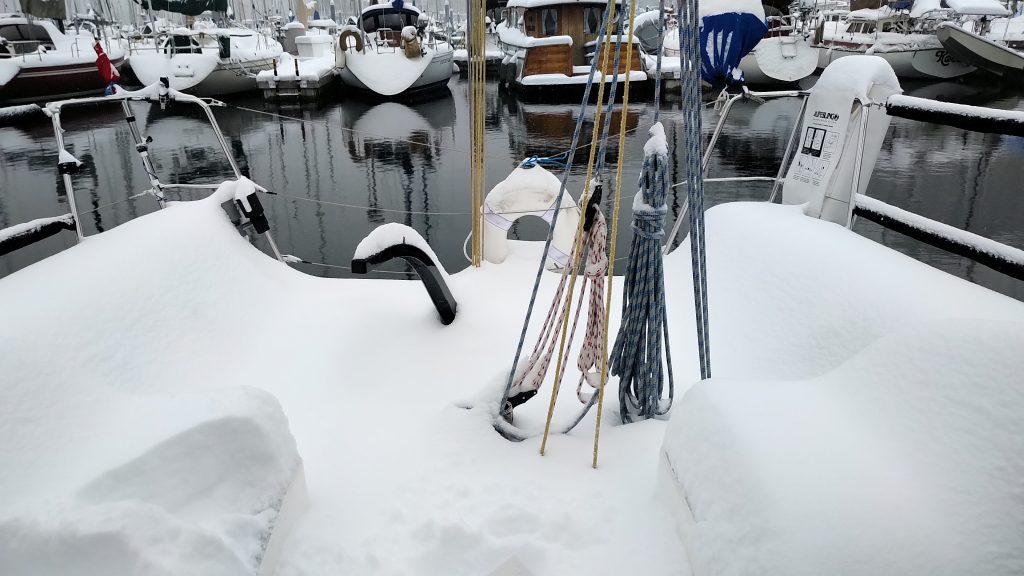 Don't get me wrong, I love snow here. I'm fortunate enough to have a 4WD vehicle with studded snow tires which, when driven carefully, does a pretty good job on Seattle's many hills and slopes — allowing me to think of snow as "pretty" instead of "nightmare".

An hour and a half of work later, One Life was cleared of snow. It turns out a sturdy plastic dust pan makes a pretty good sailboat snow shovel! Add a broom to help clear snow from around the lines and deck rigging and the job was pretty straightforward.

Afterwards, I took off all the wet foulies, closed up the cabin, and started the heater. I made myself some hot chocolate as a reward for the hard work and settled in with a good book.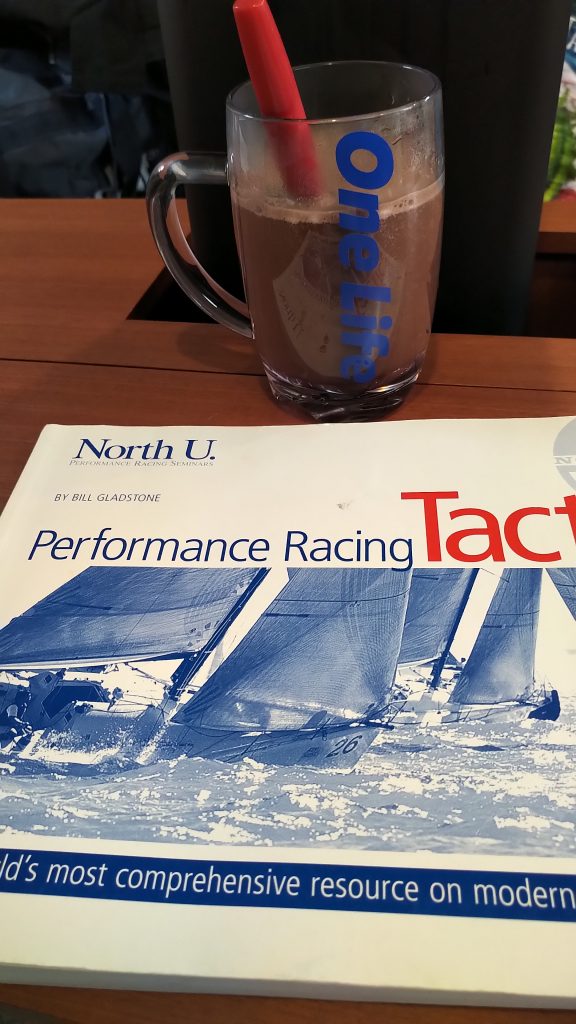 Today (Saturday) will be the first time on the boat in months — which is completely unusual for Kris and I. I can't remember the last time since I became a boat owner where I didn't sail at least one time per month — and now it will be most of 3 months without a sail.

Shameful.

We're practicing this weekend, including welcoming some new crew. Next weekend is STYC's Freshwater Race. If you live near a bridge in Seattle, apologies in advance for all the horn honking early Saturday morning. Four bridge transits and a lock each way will make for a long day for a race so close to home, but I'm really looking forward to getting back to racing.

While STYC is holding to a crew limit of 5 people for now — reportedly because their permits for early races on their calendar included this limit — other race committees are doing what I expected for the 2021 season by not specifying crew limits and leaving pandemic compliance up to the individual skippers. CYC Seattle just posted their Center Sound Series NORs, which include this pandemic provision.

As I noted in my prior blog post, I think this is the best decision race committees can make. The regulatory basis for the 5-person rule was erased by the state in January, leaving race committees to have to rely on the state's Team Sports rule (in my opinion) for guidance. As I wrote in my last post, if football, indoor volleyball, and hockey can have competitions — we can certainly race and I see no reason for crew limits in our local fleet, especially as Phase 2 is currently defined.

Fortunately, local (and most national) trends are for rapidly dropping COVID-19 cases. With the US dosing nearly 2 million doses of vaccine per day, plus with the holidays over and travel reducing, we're finally seeing relief from the horrific infection levels seen over the past few months.

I'm hopeful most people who want a vaccine will be able to get one by summer. I look forward to having a full crew of vaccinated individuals and being able to sail without a mask. While masks are not an impediment to sailing, it will be nice to see the smiling faces of my crew again!