It's been a tumultuous week here in the One Life camp with our two most active local clubs pulling the trigger to restart racing. A welcome development, to be sure, but one certainly adding an edge on our ongoing practices.

The Sloop Tavern Yacht Club announced the restart of Ballard Cup, their long-time Monday night beer can racing series. The rules were different, though, with five crew maximum per boat, masks required, and contact tracing mandatory. Ballard Cup is, like all STYC events, run by volunteers so the committee boat activity has been scaled down as well. No flags or warning signals — start on GPS time and write down your GPS time when you finish. All the changes were easily handled though, especially when the reward was to be back racing.

The Corinthian Yacht Club of Seattle restarted their Sound Wednesday series, but with the additional twist of only allowing singlehanding or doublehanding. They also require contact tracing and masks. The committee boat work was scaled down, using existing buoys for roundings instead of setting up a full set of marks. Again, none of us had any trouble with these alterations as it allowed us to be racing again.
Ballard Cup Race Recap
Taylor Joosten – Main trim and tactics
Kelly Moon – Pit
April Armstrong – Foresail trim
Mathiey Demarne – Foredeck
David Miller – Helm
The first surprise for STYC's first return of racing was the class breaks. Our large J/105 fleet didn't show up in their normal numbers to get their own class, so One Life ended up in a class with three J/105s and the always fast Evelyn 32-2 Poke and Destroy, owned by Alex Simanis (who also owns local sail loft Ballard Sails). The class was supposed to have 4 other boats, but only 5 made it to the line this night. The Evelyn and the J/105s are all rated PHRF-NW 93, so One Life was giving up 15 points to each boat in the fleet.

We were out very early to practice, working on a persistent problem of an inability to point on starboard. Port, no problem. Starboard looks to be 10 degrees short of where she should be pointing. We spent quite a bit of time trying to improve things, and made some progress compared to what we'd seen over the last few practices.

We also had a chance to launch and douse a bit more, which was good. During most of our practice sails, we were launching from a bag on the deck. We'd decided during a recent post-practice recap to start launching from the foreward hatch, as the bag interferes with the jib — not something you want to deal with on a start. Since most of our courses are two laps, we needed to be proficient launching from the hatch anyway.

We launched the kite in a southerly breeze around 8-12 knots. After a few gybes, Taylor's sharp eyes picked out a northerly wind line bearing down on us. In the space of about 20 seconds, we went from a 10 knot southerly to a 10 knot northerly. While such evening wind shifts are a regular part of racing in our area, they are rarely so pronounced. Typically, the wind dies for 30-60 minutes while it shifts south to the northerly evening thermals. Not this time. But, Taylor picked the change out and we navigated the shift with little to no drama.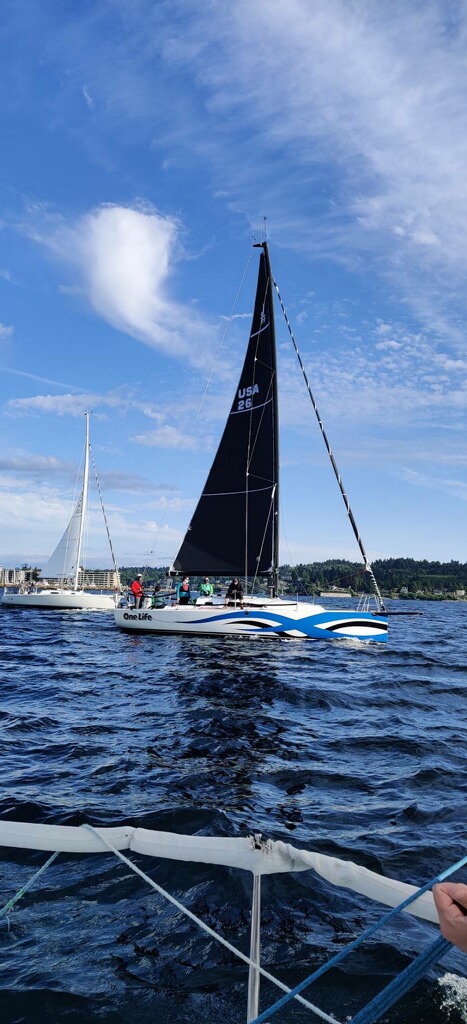 Taylor did a great job getting us set up on the start line, one boat in from the pin end. J/105 Peer Gynt was leeward and we both hit the line directly on time and about a boat length ahead of the other boats. Peer Gynt immediately worked up on us, as is common in that situation, and we simply couldn't hold the point on starboard. If the winds were light, we could manage it because of our comparatively large J1 and racing main meant we didn't have to fall off to maintain momentum. When we got a gust, however, Peer Gynt was able to sail higher and faster.

Eventually, we ended up ducking her stern and the bad air gassed us back in the fleet some. Neverthless, it was a great first start and helped confirm our starboard pointing issue was real and not an artifact of instruments or a crooked Windex. The crew did a great job on the tacks as we went north towards the windward mark and we ended up rounding the mark in good shape with the rest of the fleet.

After a smooth, but slightly delayed, hoist, we followed Peer Gynt out to the west. The rest of the J/105 fleet followed but Poke and Destroy (who runs a symmetric kite) went inside to the east. This turned out to be the winning move, as Alex's boat smoked the rest of the fleet to the windward mark. We were a little slow to gybe into a big wind shift, but it wouldn't have made any difference to the final outcome.

We had a great rounding and, after clearing the rounding area, headed back inside figuring Alex's gains in there demonstrated better wind. A few tacks later and we had got the horn for One Life's first ever complete race!

We ended up crossing the line 3rd in class, correcting out to 4th in the class and 11th overall in the 33-boat fleet. Poke and Destroy was first, and first overall, with Peer Gynt second in class and second overall.

We had a great debrief back at the dock and some celebratory beers.

How did I feel after finally being able to race One Life? I'm blessed to be able to pursue this passion of mine and to find such great people to share it with. I was 100% satisfied with the outcome and One Life, knowing patience and practice will be rewarded with a much faster boat in the weeks and months to come. the fact we were 11th overall and did reasonably well among the very experienced sailors in our class was a real bright spot.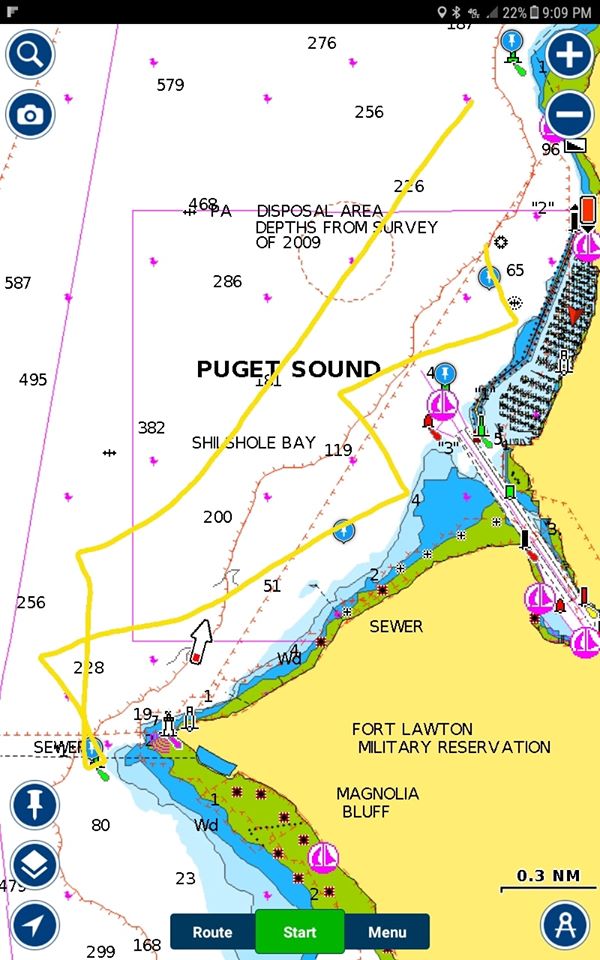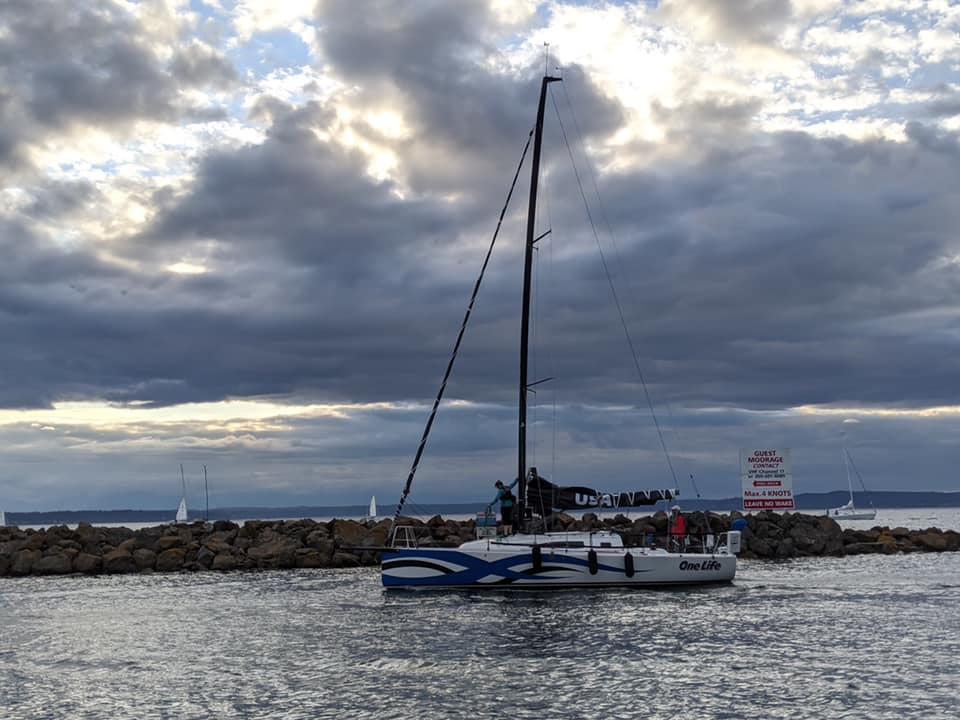 CYC Sound Wednesday Doublehand Recap
Taylor Joosten
David Miller
One of the strokes of luck I had early on this year was discovering Taylor was available to crew on One Life and her agreeing to come on board a brand new program run by a skipper/owner with a fraction of her experience. Taylor has been racing (as in Chicago-Mac racing) since she was a pre-teen, was a college racer, and comes from a long-time racing family in the Chicago area. She's one of the best main trimmers I've sailed with yet and is extremely knowledgeable — exactly the kind of sailor I need sitting next to me as I learn both the boat and this sport.

When the Seattle CYC announced the doublehand plans, I had mixed feelings. On one hand, I was excited because that's what the J/99 was designed for and we'd get to experience this in the windward/leeward racing CYC's Wednesday series is all about. On the other hand, I want to give as many people on my crew list an opportunity to sail as possible and doublehanding isn't compatible with that.

Taylor and I only had one chance to practice ahead of the race. It was… exciting. Fred (the autopilot) threw a wobbly and we did an unplanned gybe right in the middle of trying a letterbox douse. And we learned that while the J/99 is set up for doublehanding she's a BIG boat with a LOT of sail area. When Taylor and I switched off at the helm and I practiced handling the tacks, whew… The months of pandemic WFH did my fitness level no good.

We approached the start line for Wednesday's race knowing we needed to try and fix the starboard pointing issue confirmed for us during Monday's start. After leaning on our network for advice, we had a few things to try. We also wanted to get some practice with hoists, gybes, and douses. All went well and we were looking forward to the start.

Not unexpectedly, there weren't a lot of boats of our size. Nearly the entire J/80 fleet was out and every one of the fleet's eleven J/105s were registered, but only 4 of them sailed. By class, One Life (PHRF-NW 78) would have been racing a Peterson 44 (60), a J/35 (72), a Beneteau 45 (75), and an FT 10 (57). None of those boats came out for the race, though, so we were back with the J/105 fleet — not in class, but for the grouped start. More Jubilee, Peer Gynt, Corvo 105, and Paladin staged alongside us awaiting the starting horn.

Once again, Peer Gynt ended up to our leeward at the pin. This time, however, we had more room to leeward and a head of steam. Taylor had us perfectly positioned to blaze across the line ahead of the rest of the boats and we were off to the windward mark in really good shape.

The inside boats decided to tack back east sooner than we did, and gained significant ground on us — partially due to some bad footwork on my part trying to handle effectively tacking the main. We ended up having to do a big duck of Corvo 105 — and then things went pear shaped…

As we tacked back after the duck, the traveler line got wrapped around the tiller somehow. When the main came over, it gybed the boat hard to starboard. We ended up doing a complete 360 before I managed to get the damn thing off. This, obviously, put us back of the pack.

Despite this, we rounded the pin not as far back as one might expect. After a great hoist and a good decision to gybe inside when most the fleet went outside, we rounded the leeward pin mid-fleet.

The inside didn't work as well going back north for some reason, but we ended up rounding the windward mark close to the other boats. Corvo had a nasty wrap when trying to hoist. Peer Gynt and perennial J/105 class leader More Jubilee had great roundings. We did the opposite from the previous leg and stayed outside, which worked pretty good for a while. We ended up at the leeward mark neck and neck with Peer Gynt.

Thing got a little sporty at that point, with Peer Gynt gybing right in front of us and forcing us to gybe earlier than we planned to avoid a potential collision. Our douse took longer than we wanted because of this and for reasons we're still trying to figure out, and we ended up a few boat lengths beyond the mark.

It was a good lesson for doublehanding, though: Early dousing is faster.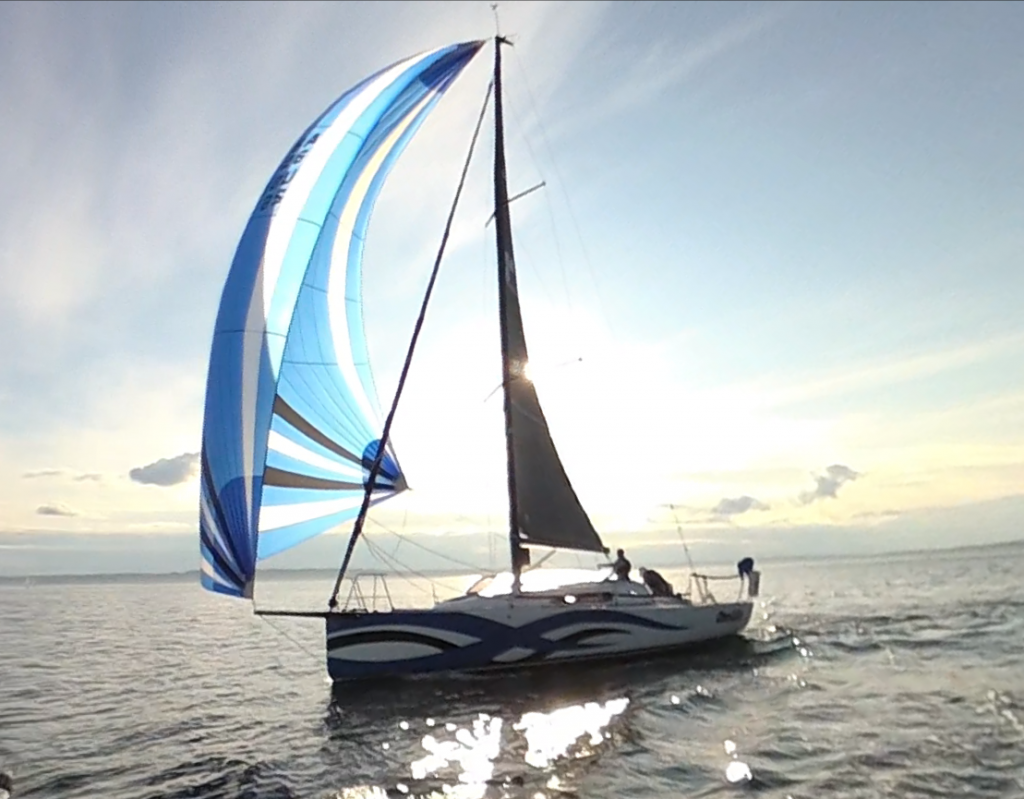 We made good time coming back, crossing the line 3rd of the 5-boat fleet behind More Jubilee and Peer Gynt. The standings came out the same on corrected time, with Corvo 105 fourth and Paladin fifth.

Since we were the only boat in our class to race, we got the bullet for the first race of the CYC Sound Wednesday doublehanded season.

I can't share our race track or any video, because I forgot to start the damn things. This is turning out to be a bit of a thing for racing, apparently, so I'm going to have to encourage the crew to pester me to turn the things on when we get to our start sequence.

Taylor was amazing handling everything ahead of the tiller. My lack of practice helming AND running the main showed, and slowed us down — plus whatever the hell happened to get the traveler wrapped around the tiller. We were exceptionally lucky we were clear of the other boats and the effect was to gybe us around in a circle instead of lock us in toward the nearby shallows.

Except when singlehanding, of course, I've always preferred to have someone else handle the main while I concentrated on driving. This means I don't have a lot of experience doing both, and it showed. It's something we'll need to clean up next week for sure.

All-in-all, it was great to be back racing again. We have lots to smooth out and a few boat issues to solve, but nothing insurmountable. I can't wait for next week's racing and especially can't wait for the upcoming STYC Women at the Helm regatta in two weeks where I hand over the helm to one of the women for One Life's first-ever regatta.