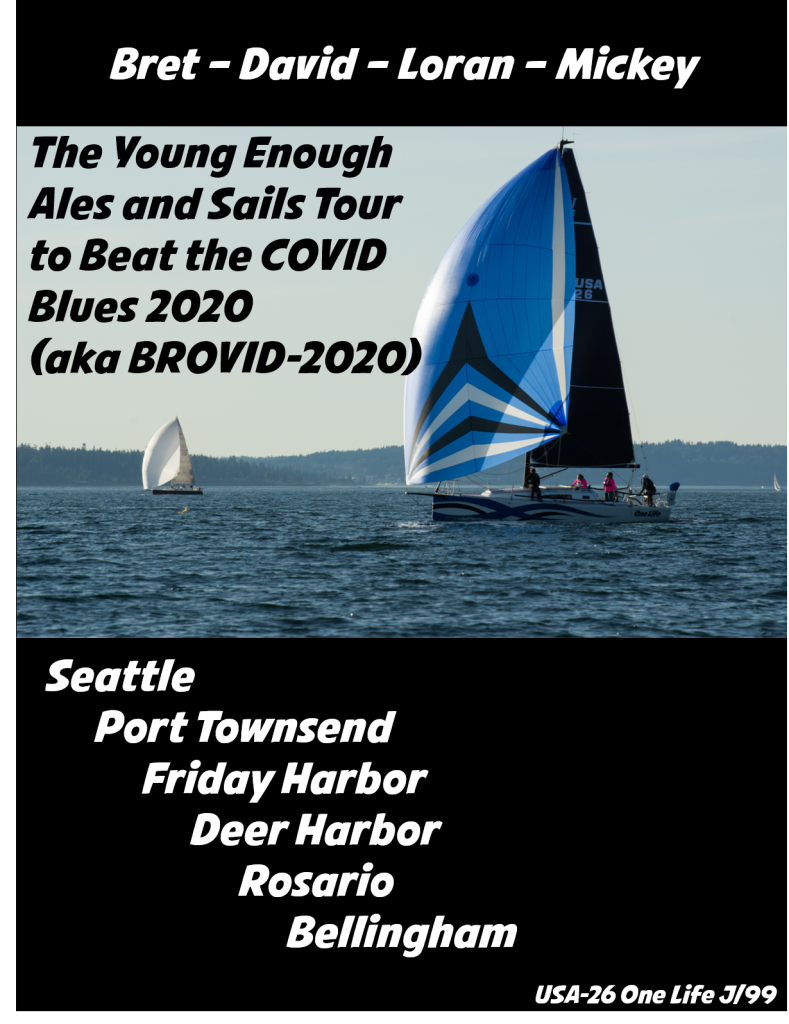 Way back in 1985, I ended up on a recreational volleyball team at Western Washington University in fall quarter of my freshman year. I met Bret, Mickey, and Loran via that team. We've been fast friends ever since.

As life sometimes dictates, geography started to separate us. Loran ended up in San Diego, then the Bronx, and now Philly. Mickey landed in Portland. Bret splits time betwen Auburn and Bellingham. A few years back we all got together for a "reunion" of sorts in Portland for an epic few days of microbrewery crawling. Since then, we try to get together every year or two as schedules, funds, and life allow.

We all hadn't been together in a while, so when I suggested we take One Life cruising the response was enthusiastic. Loran and Bret had been on sailboats before, Mickey hadn't. All are beginners. But One Life is a forgiving boat and I laid out a plan to cruise in areas I was familiar with — Gig Harbor, Blake Island, Eagle Harbor, etc.

The pandemic screwed that up as nowhere south of about Port Ludlow was taking reservations. So, it was "Go North, Young (Enough) Men!"
Day 1: Shilshole to Port Townsend
The day dawned sunny and warm, but no wind for our morning departure to Port Townsend. That's OK, I'm with my brothers.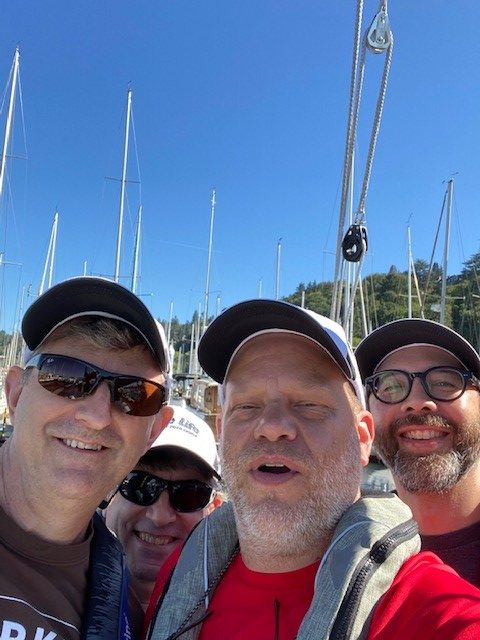 We spent quite some time at the dock talking safety, introducing everyone to where the gear was and what it took to be safe on the trip. We walked through the crew overboard drills, how to start and stop the engine, and all the many things necessary if someone was hurt or overboard.

We motored out of Shilshole into flat waters and bright, blue skies. Once we were clear, I handed the tiller off — with Loran being the first to volunteer. Pretty sure neither he nor the other guys knew what was coming next…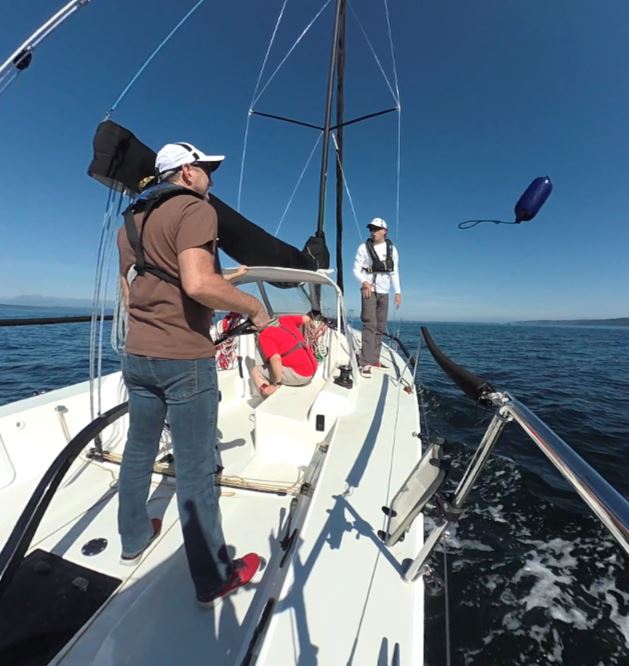 Everyone had a chance to drive and a chance to fish the fender out of the water. It made for some good practice, I think. By the last one, everyone was comfortable with the drill and I didn't have to do any prompting — which made me feel good since they'd be coming back to drag my old ass out of the water if I went over!

About halfway up to Port Townsend, the wind finally was enough to where we could hoist the sails. Still an amazingly beautiful day. Everyone got their first chance helming upwind, so lots of instructions on how to keep the jib telltales happy. Winds were light, pretty much perfect conditions to have a bunch of beginners on the helm of a raceboat.

It was as about a perfect first day as we could have asked for to get everyone familiar with being on One Life.
Day 2: Port Townsend to Friday Harbor
I'd been to Port Townsend and back singlehanded racing Dragonfly, so Day 1 was a known quantity. After Port Townsend, however, it was all new territory to me. I knew the stretch across to Friday Harbor was the source of many tales — big winds on the beam, big seas — but the forecast was for no wind and not huge tides. To be honest, I was a little complacent — forgetting the other common San Juan Islands summer weather hazard – FOG.

And OMG, did we get the fog. Less than 30 minutes out of PT our visibility was about 100′. This was not great given all the traffic lanes we had to cross. And traffic there was.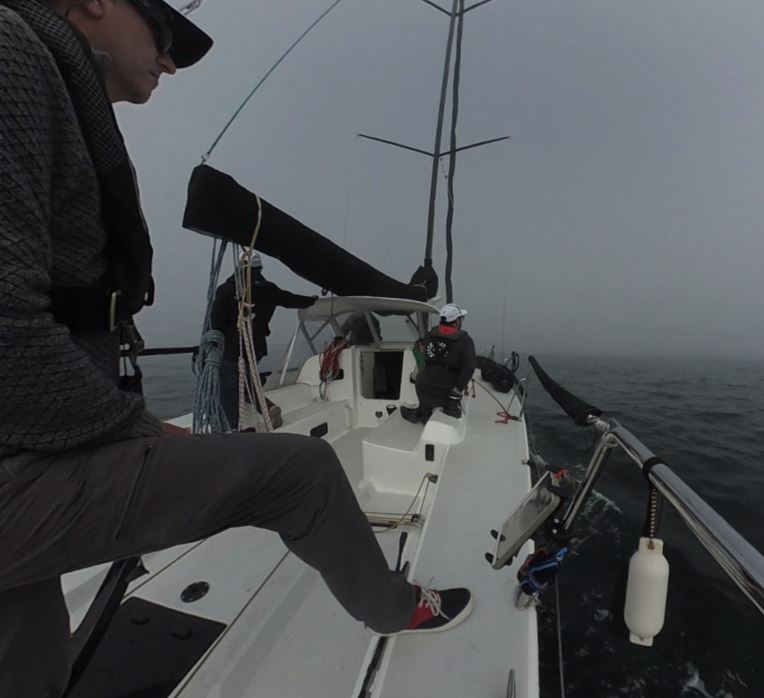 We could hear the big commercial ships hooting their horns, but directionality (as those who have been in heavy fog) can be difficult. As they got closer, we could more clearly track them. We were using the horn ourselves, making sure any motorboats wouldn't come upon us at speed.

As you can probably gather from the video, we had one ship pass fairly close by in front (never saw her, only heard her and saw the wake) and another a ways behind.

The guys did a great job keeping eyes and ears open, especially for all the flotsam and jetsam (which we just called schmutz) floating around in the tidal rips.

We were nearly to Cattle Point when the fog finally lifted. Several sighs of relief later and we were into the heart of the San Juan Islands. The winds picked up a little, and it was from the south, so I decided it was spinnaker time!

I probably wouldn't have tried this with a rookie crew, except for the fact it was light wind and I knew from the STYC singlehanded race the prior weekend I could get it down on my own if all went wonky. Plus, I trusted these guys to be able to follow directions. The hoist went great, as did the gybes.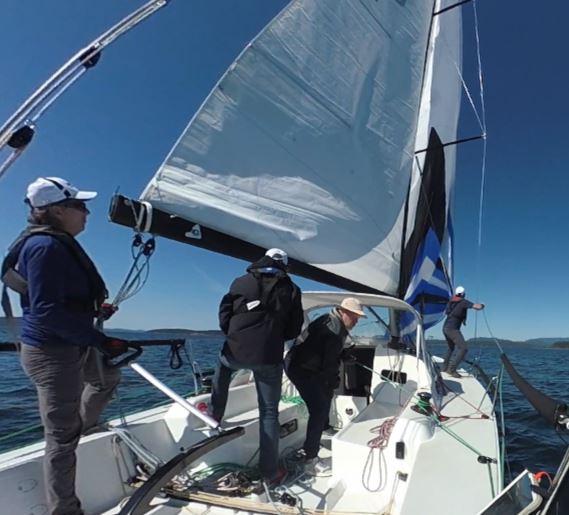 What I hadn't counted on was the wind going nutty on us. First, a 180 shift. Then another. Then it just died. My three crew all looking at me like, "Uh Dave, is this how it is supposed to go?"

No gents. It is not…

Made for a really easy douse, though!

We motored into Friday Harbor, everyone glowing after a really adventurous day. Fog, spinnakers, and everything!
Day 3: Friday Harbor to Deer Harbor
This was our easiest day of the trip in terms of mileage as the two ports are only about an hour apart by motor. When planning the itinerary, I really hoped we'd have some wind during the day. Fortunately, not only did the fog gods stay home, the wind gods showed up and we had a wonderful day sailing up and down off the west side of Orcas Island.

The spinnaker came out to play again, and the guys were getting pretty good at all the maneuvers. We had one of the most beautiful and perfect gybes yet on One Life, though we had a little trouble immediately after with our new active sheet trimmer ducking down to grab the lazy sheet instead — but all good. The pit guy grabbed the active sheet in time and we got it all straightened out.

It came time for the douse and all was going good until I had the pit person blow the tack line. Normally, this is OK, but you have to tell the bow person to be ready to gather it in.

I sorta forgot that instruction…

So the tack goes blowing out, the bow person is tugging on the clew, which I'm not letting him have because the pit person has the halyard rushing to the deck and… into the water the spinnaker goes.

Uh oh.

After a few long seconds while I processed the impending shrimping expedition this douse turned into, I ask Loran (doing the pit) to try and hoist the spinnaker. He puts his back into it and actually gets 10-15 feet of it out of the water somehow. Meantime, I tell Mickey (on the bow) to start gathering in the tack end of the foot and shove them down to Bret, who is in the forepeak being the squirrel.

We're able to avoid disaster and get the soggy kite down in one piece. Bret comes up, and I start apologizing to him for getting soaked. Turns out he's as dry as a bone. Not sure how he managed it, but he didn't get soaked being the squirrel despite the bottom third of the kite being pretty soggy.

He was laughing though. "I saw the spinnaker go off into the air and thought, 'I don't think it's supposed to be doing that!'" Indeed, Bret, indeed. Chalk that up to not so great instructions from your skipper.

All was good, and we sailed through the passage to get into Deer Harbor.

It was probably my favorite day and night of the trip. We had lots of fun sailing and extra time to tell stories and drink beer at the dock. Many times I was laughing so hard I could barely breathe.

Damn, I've missed these guys.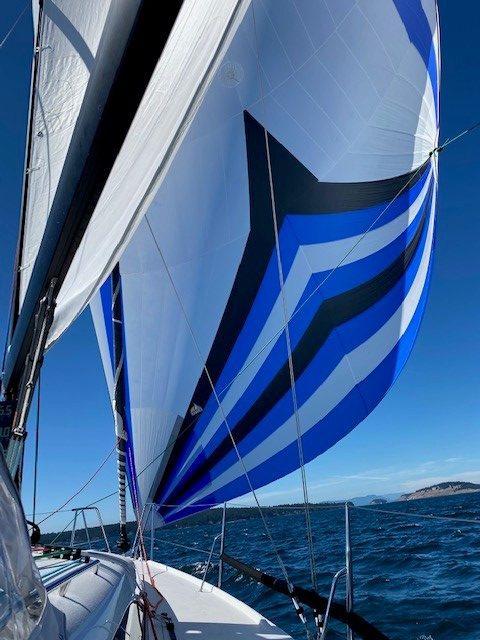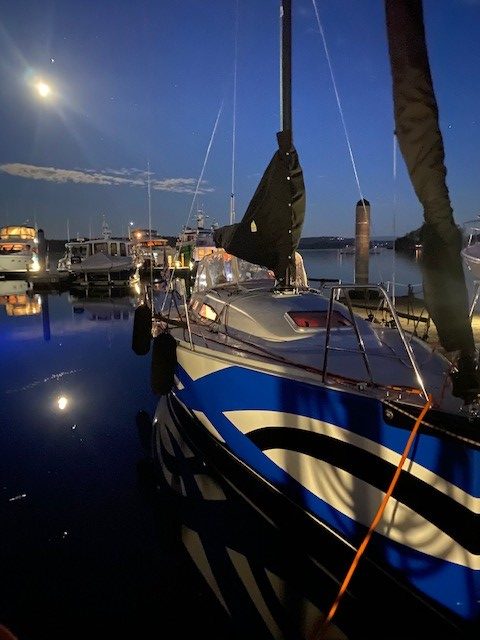 Day 4: Deer Harbor to Rosario
Another easy day, so we took our time at Deer Harbor to sleep off the many, many beers we drank while at the dock. Not much wind for the day, but really pretty day for a passage.

Bret took time to interview the crew about the trip this far. (This is funnier if you know the personalities, trust me.)

We did manage to get the sails up for a while in Eastsound, but the wind was incredibly fluky. Mickey was at the helm for the most of it, getting a good taste of how miserable driving can be in light airs when they are shifting 30-50 degrees all the time.

Eastsound is plenty pretty, though, so at least there was a lot to look at while we drifted in the light winds there. Eventually, we gave up and motored into Rosario — a tight little marina with some rather odd shaped slips.
Day 5: Rosario to Bellingham
After being less concerned than I needed to be about crossing to Friday Harbor, I was extra-cautious about the Rosario Strait crossing we had on our final day. We left early to time the tide through Peavine Pass correct. Forecasts were all over the map, with at least some chance of pretty strong winds in the Strait.

Nope.

It was a pretty motor, and we made the attempt to get the sails going when we saw some wind between Lummi and Eliza Island, but it really didn't pan out. We even had the Code 0 up to try and catch some breeze, but no luck — even with some extra help from the crew.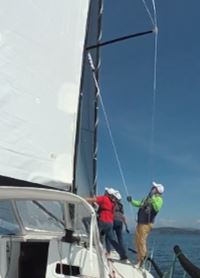 To pass the time while we were motoring, I taught everyone to tie clove hitches and bowlines. Given the fact I didn't learn to tie a bowline until I was (cough) 52, despite the fact I was a Boy Scout, I was pretty proud to see my students pick it up pretty quickly.

We motored into the Squalicum Harbor entrance in Bellingham a little after 2pm. After being notified by a nice fellow on shore we dropped one of our fenders, we had to swing back right at the entrance and retrieve it. Other than that little oopsy, the last day was pretty uneventful.

All-in-all, it was an amazing 5 days of cruising with three of my favorite people in the world.

Thanks, guys, for sharing One Life with me.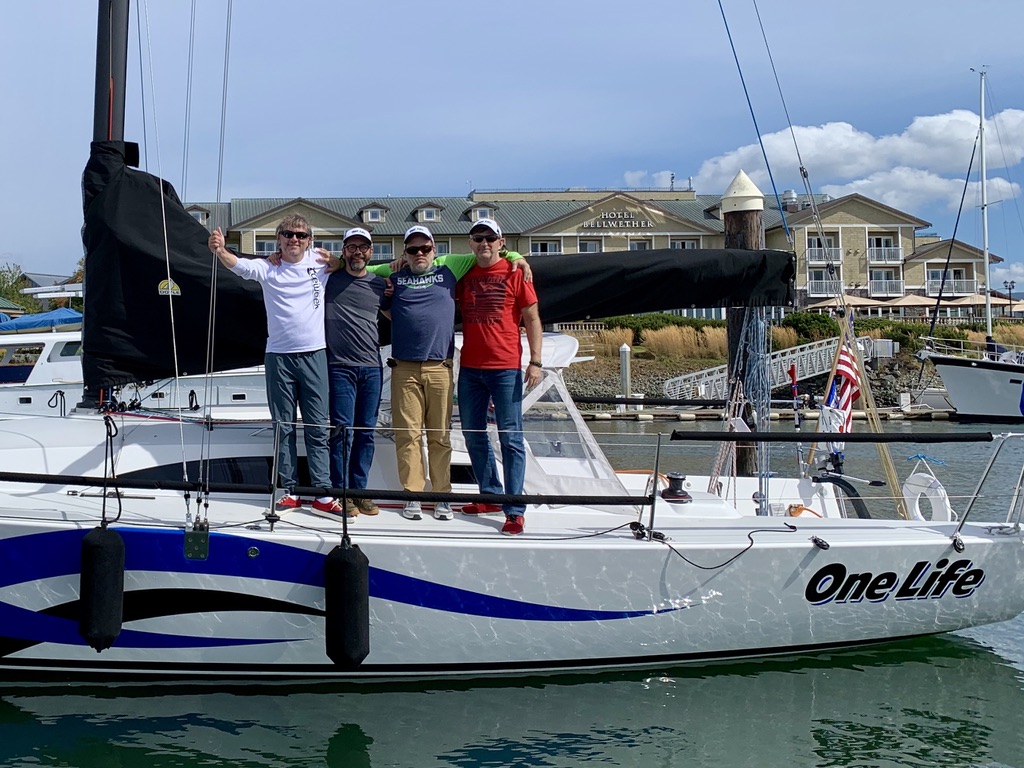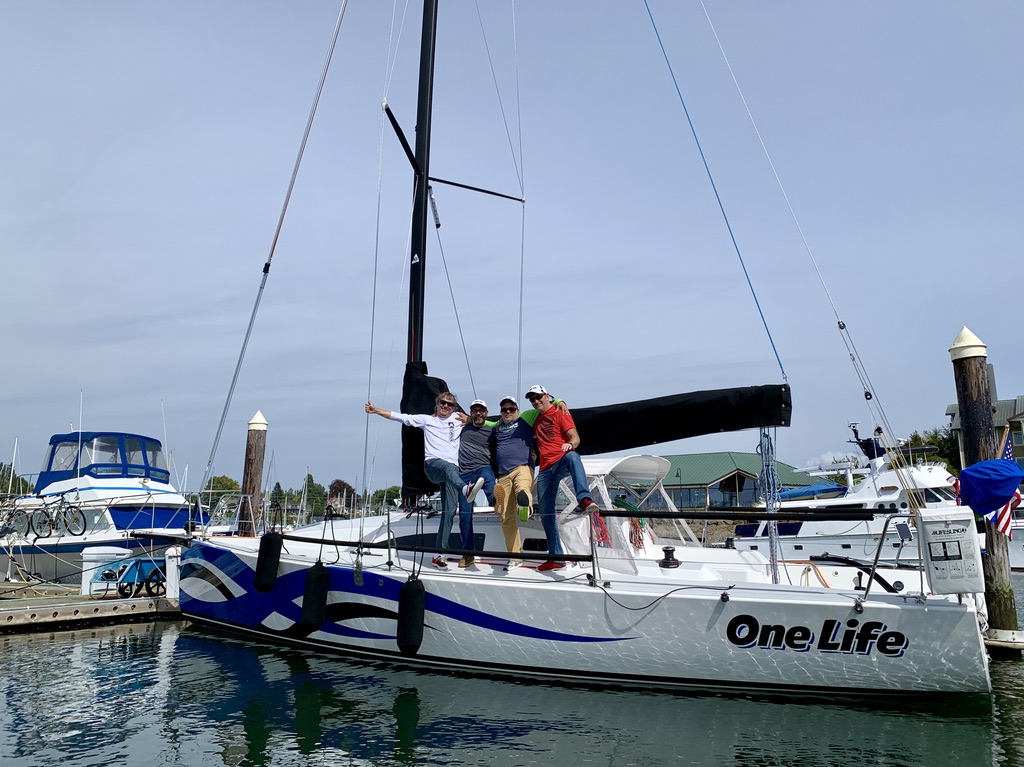 This is a long video more for the guys than anyone else. If you've got a spare 90 minutes (or so), have fun!

(NOTE: YouTube processed the video oddly so the titles are all wonky and the GPS stats for the boat are out of screen. It is still 360, though, so you can drag the video right/left or up/down to read the titles or pan right to get the GPS stats. It took nearly a full day to rip and most of a day to upload, though, so I'm not likely to go back and try and fix it. Sorry.)