One of my favorite outings when I was learning to sail was going out with Gary Peterson on his regular crabbing outings via one of the local MeetUp groups. He'd take his dinghy out and drop pots ahead of when folks would arrive, and we'd motor out, pull them, then drop them for a second round. Then we'd sail around for a while, wind permitting, do another pull and then feast back on the dock.

One of the highlights of having a boat at Shilshole, I figured, would be the ability to do the same. Last Christmas, Santa came through with a crab pot for Kris so we were all set.

This is an odd season, with crabbing in Section 10 only open Sundays and Mondays. Nevertheless, the first Sunday we dropped the pot and — as I mentioned briefly previously — it got hung up on the bottom and we lost it and 30 feet of our weighted line.

Off to Outdoor Emporium to score another pot, harness, and bait tube.

We tried again the following Sunday, dropping the pot in 50′ of water and then heading out to sail. After letting it soak for a few hours, we come back to try and find it and we can't. I'm sailing around in circles where I marked it on the GPS and nothing.

Kris, standing on the bow, somehow spots the buoy and flags underwater a few feet off the bow. As we circle, we lose it again. Then we spot, and lose it again. And again.

Another boat comes by and pulls their pots, no doubt wondering why we're going in circles looking underwater. About the time I'm ready to write off pot #2 (at least until the next low tide), Lizzy Grim spots the buoy floating above the water.

Best as we can figure, when the other boat laid their pots they fouled our line and submerged our buoy. When they pulled their pots, it took enough weight off our line to allow our buoy to float free.

We excitedly pull the crab pot to find… One too-small crab.

Strike two, though at least we got all the gear back this time.

After we pull the pot, I see we're closing in on the shore due to the flood and north wind. I look around the boat to make sure there are no crab pots or lines in the water nearby and pop One Life into reverse only to feel the boat shudder. I instantly put her in neutral and call for a quick jib hoist to get us away from shore while we figure out what's up. We sail out to deeper water with no evidence we're dragging anything. I tentatively start the engine, put it in gear, and all seems OK.

I had the boat dove the next day (thanks Ben Bottoms!), and there was no evidence of anything wrong down below. Whew!

This past Sunday, we decided to try our luck again. I didn't think ahead and ask the race team on Saturday to drop the race sails, so Kris and I dropped the race sails and hoisted the cruising sails before we headed out — which is a bit of a job for two people. The wind was pretty shifty and the waves were higher than usual, but we got the pot dropped in about 30′ of water before heading out for a sail.

A couple hours later, we returned to the GPS marker and the buoy was where it was supposed to be! We pulled the pot to find…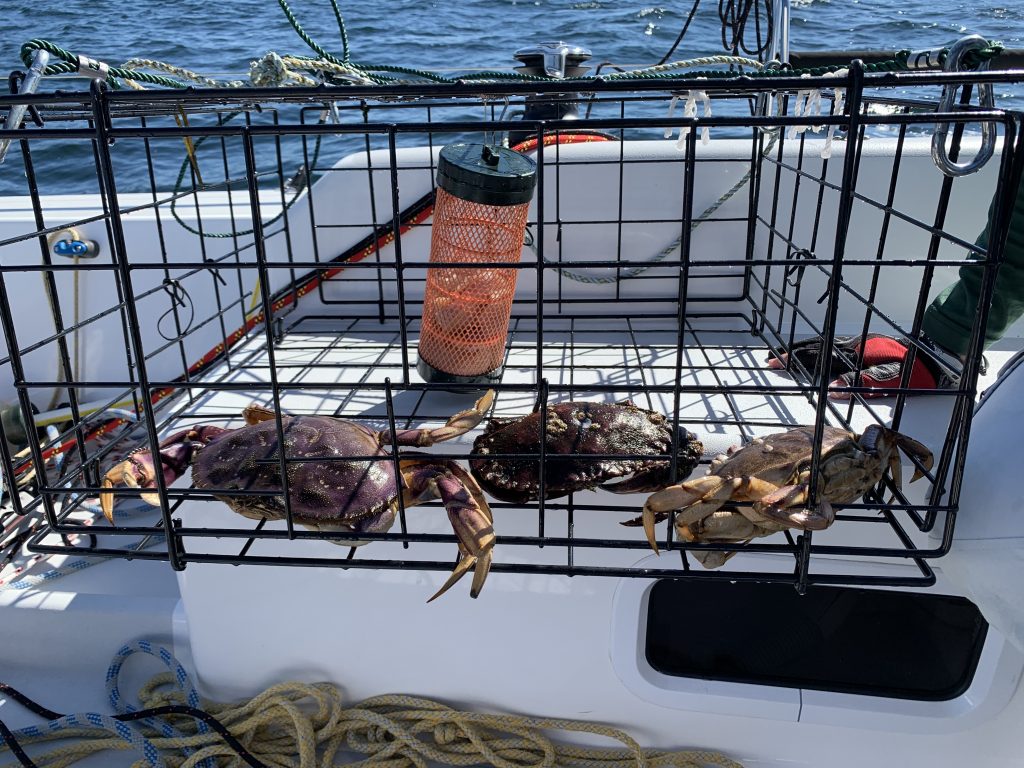 Despite the low number of crab, we were pretty excited. One was female, so she was sent overboard to her home. The second was a little too small.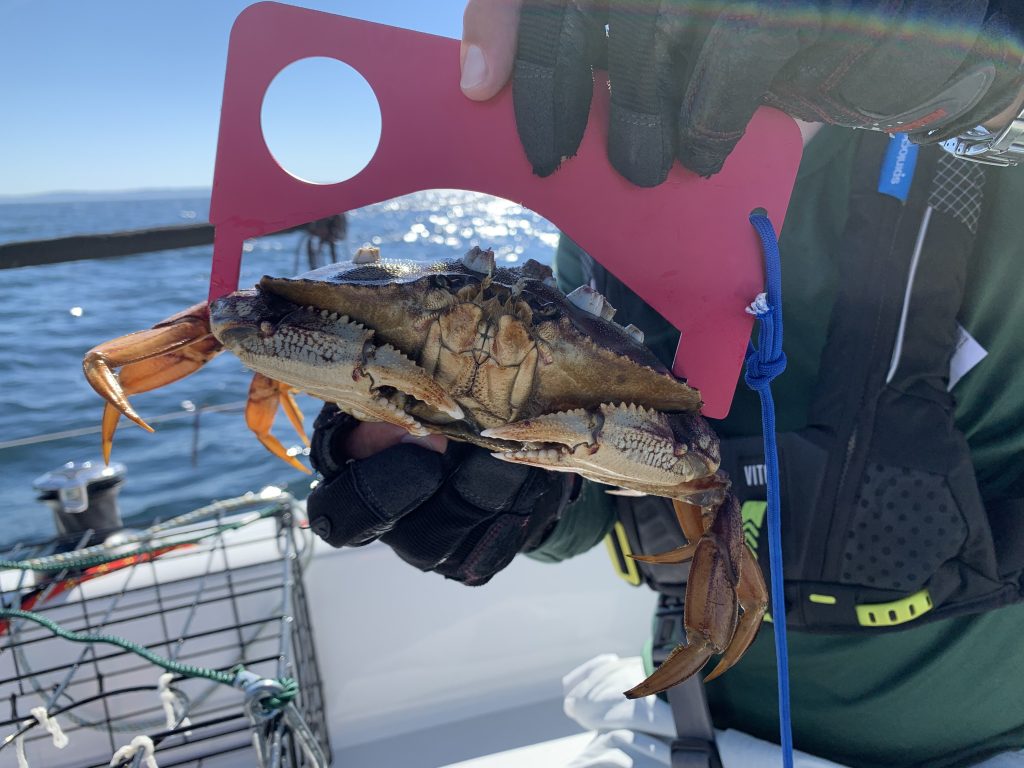 The third was just right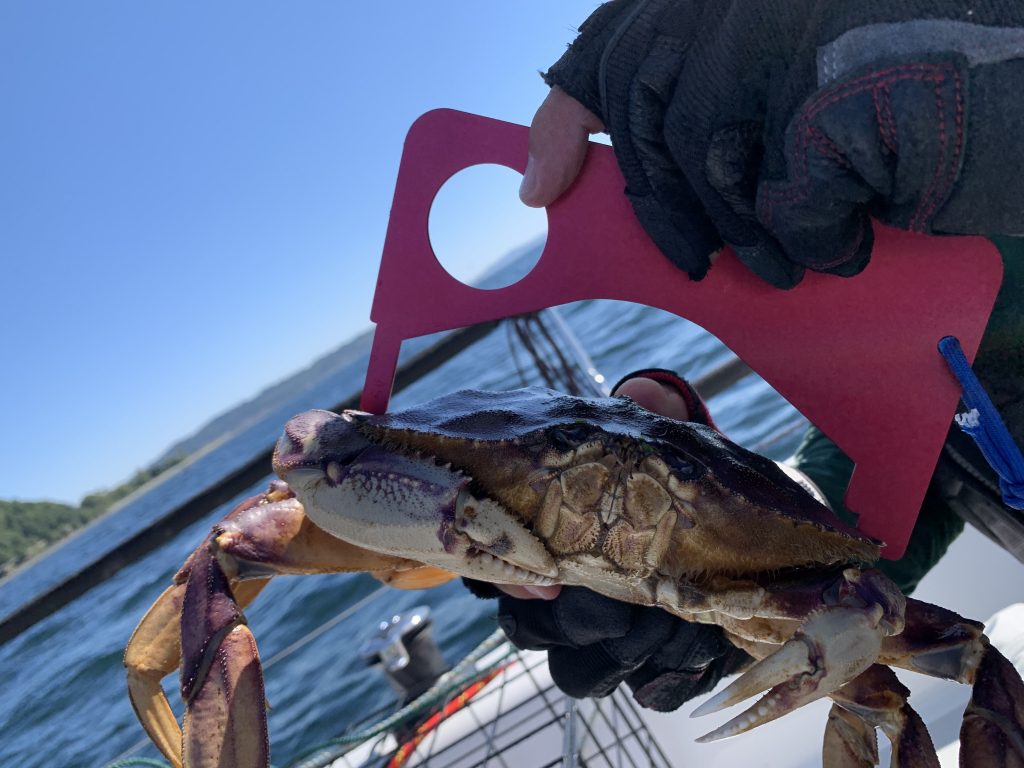 After losing one pot, nearly losing another (and a potential wrap around the prop), and an exhausting 2-person sail change, we finally got our reward.