This past weekend, just prior to our Governor's Stay at Home order, we decided to do some physical distancing in addition to the social distancing we'd been practicing. After a late Friday conference call, we loaded up the boat with far too much gear and headed to Blake Island State Park.

We'd cruised here multiple times with Dragonfly previously, and loved the relative solitude of the small marina as well as the trails throughout the wooded island. By the time we got sails off and back on, plus all the gear piled, it was late and the wind died. So, we ended up motoring.

It was a beautiful day, however, and One Life's Volvo D-20 is pretty quiet and smooth so we didn't mind. It was just nice to be back on the water again.
The video above was shot with a Garmin VIRB-360 connected via WiFi to the rest of the Garmin gear on the boat. If you fiddle with the perspective some, you'll be able to see I overlaid data from the system on the video itself. It's a cool feature I'm really looking forward to using in races for post-race training.

I have a 256GB SIM card in the camera, which the out-of-date Garmin manual for the camera says won't work. After a few hours of Google searches and reading, it was clear lots of people are using 256GB and a few are using 512GB with no problems. I suspect I'll get ~6 hours of video and the associated data tellemetry file on the camera before it fills up. I suspect I can get more if I adjust the recording settings some.

The camera is hardwired into boat power via the Garmin Powered Marine Mount (part #010-12521-03). The whole thing is held on to the starboard stern rail by a My Boating Pro GoPro mount I picked up at the Seattle Boat Show. Knowing I'd be getting a camera for the boat, I'd done some prior research and was really impressed with Marshall's gear. He started out making camera mounts for airplanes, which gave me confidence his gear would work. Unbelievably, Garmin didn't engineer any way to add a retaining strap to the camera. So, whatever mount you choose better be damn good because VIRB-360s are not cheap.

It takes a while to noodle through Garmin's instructions, but once you figure it out you can synchronize the camera with their GPSMAP plotter. In addition to the camera being fed a ton of data from the plotter, one cool thing is you can display the camera feed right on the plotter screen at the nav table. I can imagine that coming in quite handy when singlehanding.

I'm finding the Garmin plotter to be really non-intuitive, though my friends are telling me to just use Active Captain on the tablet and it solves most of the issues. In fairness, the boat has been out so infrequently given the timing of its delivery and the onset of COVID-19 I've not really had a chance to dig in.

For the autopilot test, instead of creating a route on the chartplotter I just told it to hold a heading. Once you use the tiller to put the boat on the desired heading, it is one button to set the autopilot. Pretty slick.

Autopiloting allowed us to enjoy the weather and sights on the way down to the island. You can see all of these by using your mouse or tilting your phone to look around the 360-degree video, but we took some pictures, too!
When we got to Blake Island, there was a problem. No room at the marina. This wouldn't be unusual for a summer Friday evening, but apparently the marina had been full most of the week as more than just Kris and I decided social distancing by boat in a remote campground sounded like a good idea. We tied up in the temporary space, but had to move by the park rules within 30 minutes. We tried mooring between the posts in the marina, but didn't have lines long enough to span the one remaining spot where we could fit.

The "temp" spot opens up for an overnight stay at dusk (30 min after sunset), but you have to be off by 8am. We ended up being able to dock. Kelvin was very relieved.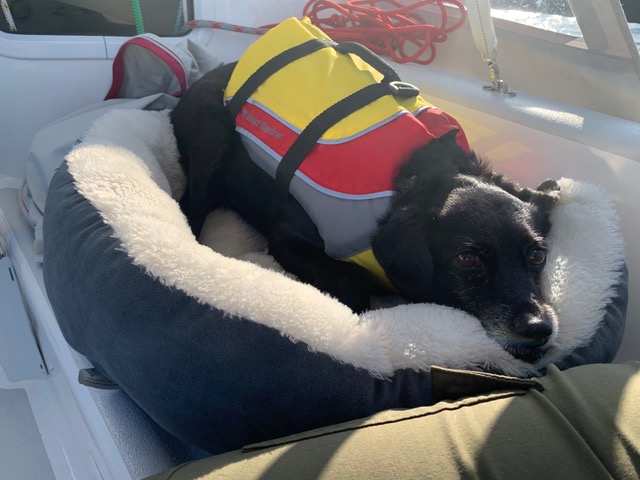 Bright and early in the AM, however, we had to get moving. One of our neighbors with a pretty bright red trawler said we could raft up and another sailboat — coincidentally named Dragonfly — said they were shoving off in the morning and we could take their spot. We stretched our stay past 8am hoping a spot would open up and, after a deserved chastening by the ranger, prepared to raft up. Only we couldn't raft up to the trawler behind us as rafting isn't allowed on the outside of that particular dock.

So, we popped out to a nearby mooring buoy. A motorboat, parked on the other side of the same dock, was watching and listening to all this drama. Immediately after we got on the ball, they pulled out — allowing another motorboat moored between the poles to slide into the first open spot. I guess those stinkpots need to stay together.

Shortly after, however, a couple more boats pulled out and we found a nice spot.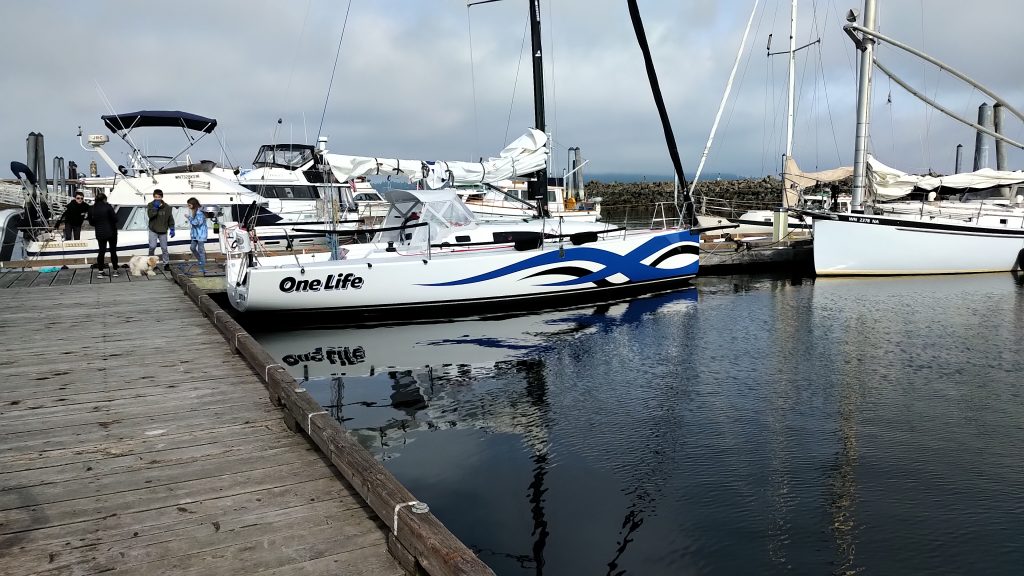 After we got settled, it was easier to relax. And there are lots of places to relax on Blake Island.
After a few more hikes, it was time for dinner. Yummy kalbi chicken from B&E Meats on Queen Anne cooked on the BBQ. (Sorry, no pictures…)

It was cool outside in the evenings and, well, we're sailors. You can probably guess what came next.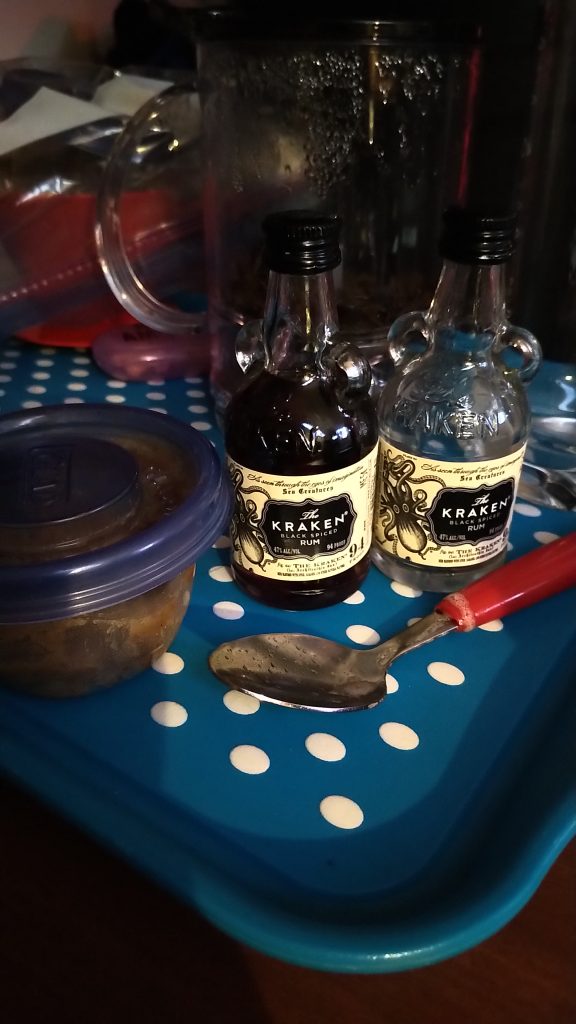 We broke out the homemade hot buttered rum mix and relaxed with the cabin heater going. It was a very nice evening being unplugged from the troubles of the world.

The Sunday forecast was light northerlies changing to a middling southerly late morning, strengthening into the evening. When we got up, however, it was already blowing southerly a nice 5 knots.

By the time we got off the dock, it was blowing 10. We weren't going to launch the kite, so it was a day for cross-sound reaching. Why no kite? Good question before we launch into the video…

Dragonfly only had the main and a 130% genoa, so we have no experience flying a kite together. I've only done foredeck a handful of times — certainly not enough to be anything more than an apprentice-level member of the Foredeck Union Local 206.

Kris is just learning to sail. Because I got so wrapped up in racing last year, we didn't go out sailing together as often as we should have on Dragonfly so it was rather a lost season for her. Kris took a great course from Lisa Cole last year, but she didn't have an opportunity to practice what she learned much because I'm an idiot and didn't get us out together on Dragonfly often enough.

As a reminder to those who haven't read this entire blog, Dragonfly is a 1969 Columbia 26 Mk II. She had jib sheets, a main sheet, and a slide traveler atop the transom — that's it. And her winches are not self-tailing. So, there was lots of learning on our first sail together on the boat and it shows in the video. I'll ask nicely that folks keep that in mind.

We're going to be all over this at some point in the future, gleefully launching the A2 for a ripping ride downhill. But we're not there yet, especially on our first doublehanded sail and her first time touching any of the controls on One Life.
Some technical bits about the video linked above before I get into the play-by-play. I'm editing these things using Garmin's VIRB Edit software on a computer with absolutely not enough horsepower. I'm still learning the software interface and the sail home seems to somehow be a little "magnified" versus what I saw when editing. This pushes the stats off the edge of the screen and the titles I added no longer quite fit.

I tried to go back and figure it out, but the software decided it no longer liked the video card in the computer and decided to quit working. So, this is what we got. (If any of you knows the solution, I'd appreciate a tip!)

Then I spent most of an evening trying to figure out why YouTube wasn't displaying the video in 360 mode. Turn out you have to run a little Python program (or buy really expensive Adobe software) to make this work. A dozen tries later, I still couldn't get YouTube to play the video in 360.

Another few hours wasted doing research on this problem and I thought it was a device or browser issue. I tested the YouTube link on my phone and it worked in 360. Tested it in another browser on the computer and it worked. Did some more research and learned it should work in the browser I use (Firefox). Grrrrr.

What they DON'T tell you is the content preview area in your YouTube account you get when uploading videos does not preview in 360. In the immortal words of Robbie Hart:
"Once again… things that could've been brought to my attention YESTERDAY!"

Robbie Hart (Adam Sandler) in A Wedding Singer
When I copied the link into a new window in Firefox, it worked. It had been working all long, just not in the YouTube video management area. (Knuckleheads….)

Once you fiddle with the perspective a little, you'll notice I added more data to the readout in the sailing video. Top to bottom, the readout is now:

Speed over ground (sadly, no decimal point)
Speed over water
True Wind Speed
Apparent Wind Angle
Heading (true)
Heel
Track

While there is a "Heel" value in the plotter's data stream, the "Heel" metric here seems to actually be the camera's own. It is labeled "Pitch & Roll" in the selectable data, but appears to work the same.

The first part of the video is pretty sedate. We're mostly on a beam reach with the winds varying from 10-18k. I included it mostly to show how stable the J/99 is. We have just the cruising main and the J3 up, sure, but even in the gusts she really doesn't heel much.

Throughout most of this video I was using the "Hold Wind Angle" feature of the autopilot. While we had it error out a few times at the start (it alarms, but doesn't just release the tiller thankfully), it seemed to settle down the more we used it. This setting is really useful for fiddling with sail trim, by the way, and I can already tell I'll be using it a LOT when singlehanding and doublehanding.

Around the 1:30 mark, we start to prepare for a gybe using the autopilot. It has pre-set "Gybe" and "Tack" functions, each just 3 key presses away from triggering.

At about 2:10 I press the button and the computer executes a completely uneventful gybe in 17 knots.

The wind started picking up, blowing closer to 20k most of the time versus 15k. The next stretch of video shows again how stable the J/99 is and how effortless she is to sail with the AWA autopilot feature.

At about 4:20, the real excitement starts as we head upwind… If you've been reading since the very beginning of this blog, you know I describe this as the "adventures and misadventures" of One Life. While nothing broke and all are safe, the video is a pretty good documentation of how I'm a little rusty after most of six months without any boat to sail and also more than a little unfamiliar with the boat.

So, feel free to wince along with me at the poor sail trim — particularly not bringing in the outhaul, putting on more backstay, and dropping the traveler soon enough. But, all good fun right?

Not for nothing, but it's worth noting we were doing 8k SOG in 15k wind at a 31-degree AWA with a badly trimmed cruising main and J3 despite being heeled over 20 degrees. I'm really looking forward to having a race crew back aboard to help stretch her legs more.

You'll probably notice at this point the autopilot is doing the steering on this port tack. You also may have noticed the autopilot controls are on the starboard side. Around about the 5 minute mark you can laugh along as you watch me slide down and turn off the autopilot with the toe of my boot.

Yes, I have an autopilot remote control on order now. And yes, the fancy Garmin Quatix 5 watch I bought is supposed to be able to sync with the autopilot. It, however, barely talks to the Garmin gear on board and (after several days of trying) I still haven't cracked the code to get it to talk to the autopilot.

Around the 6-minute mark we test out the autopilot "Tack" function. Very handy and no drama, even in the high winds!

And that brings the video to an end. Whew!

There is never a bad day sailing as long as nobody gets hurt and nothing breaks. And Kris and I finally being able to take One Life out doublehanded — a primary reason I bought a J/99 instead of a race sled — was wonderful. We learned a lot about the boat during the sail home and gained a great deal of confidence in our ability to sail her alone.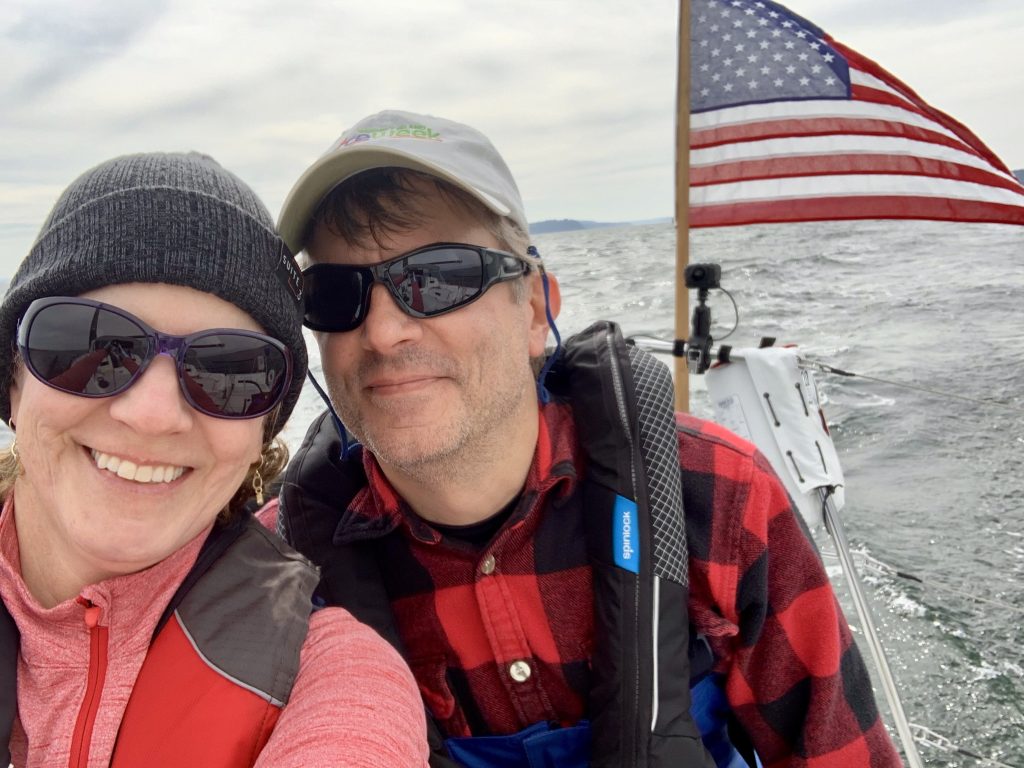 We got the boat refueled and back on the dock, with significant help from a passerby because I botched the approach in the wind. (No, I didn't include THAT in the video!)

She was filthy after Blake Island's infamous raccoons took a liking to her and tromped all over her with filthy feet both nights, so we gave her a nice bath.

Kelvin really didn't like the heavy heeling on the short upwind leg we did. Between that and running all over the island all weekend, the poor guy was a little wiped out when we got him home. We were pretty bushed as well, but with big smiles on our faces after being able to get out on the water for a weekend.